Papercrafts
Looking for something? Well you've come to the right place. Each month we bring you the latest bargains and offers from the Knitting Market through out the United Kingdom.
Filter By County
Aldridge Crafts
Everything for the crafter including a wide range of rubber stamps from many brands. We also stock Cuttlebug, Cosmic Shimmer, Joanna Sheen, Elusive Images, Penny Black, Stix2 to name a few. Also Decoupage, Peel-offs, ATC supplies, Mizuhiki cords and oriental papers, Papermania, Create A Scene, Dreamweaver, K&Co, Daisy & Dandelion. FREE paper & project downloads, loyalty scheme, low postage & packaging.
Friendly personal customer service. We are always happy to source and order items you cannot find. Payment by Paypal or by cheque. No minimum order.
B G Payne Crafts
BGPayne crafts is the place to go to get quality crafting supplies at up to 30% off RRP. Visit the website to get great products and project inspiration.

Bubbly Funk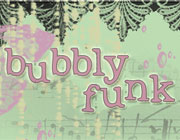 Bubbly Funk specialise in chipboard brought to you from the UK, Canada, US and Australia!

To compliment our massive range of chipboard we also sell a wide selection of inks, rub-ons, stamps, kits and much more besides.

Bubbly Funk - isn't just a fabby craft store though...
- we have Bubbly Scrumptious Blog, which brings you daily inspiration from a very talented and varied design team.
- Vanilla Sugar Challenge Blog - home decor and gifts - a new challenge first of every month.
- A Gallery where members of the forum can upload their creations.
- The Forum, which is a great way to chat with like-minded people...
- and a wonderful array of Articles to help and inspire you.

If you have any queries at anytime then please do not hesitate to contact me at caroline@bubblyfunk.co.uk

LINKS:

Shop Blog -
http://bubblyfunk.typepad.com/bubbly_scrumptious/

Challenge Blog -
http://bubblyfunk.typepad.com/vanilla_sugar/

Forum -
http://www.bubblyfunkforum.co.uk/forum/index.php

Gallery -
http://www.bubblyfunkforum.co.uk/photopost/index.php

Articles -
http://www.bubblyfunk.co.uk/articles.php

Carshalton Craft
We are a stockist of Card Making, Scrapbooking and Knitting supplies, with over 1300 lines of paper and card available
Stockists for Basic Grey, Kanban, K&Co, Making Memories, Bo-Bunny, Sandy Lion, Papermania, Duffex,
Doodlebug, Syntego, Pergamano, Sizzix, Cuttlebug, Cricut, Trimcraft, Wood Ware, Flipping Decoupage, Xyron.
Wool, Needles and Patterns. Patons, Sirdar, Sublime, Creative Yarns, Rico, Schoeller & Stahl and Grundl
We are also a Docraft stockist, and a supplier of Syntego wedding stationery range, either to make your own or ready made.
The list of our classes is available from our website at www.carshalton-craft.co.uk

Craftaholic Supplies
Craftaholic Supplies is the home for all of your papercrafting needs. Not only do we stock a wide variety of papercrafting, cardmaking and scrapbooking materials we also run regular demos and workshops showing you how to get creative using popular products. We stock Sizzix, Dovecraft, and more! Why not come and visit our online store or if you are nearby pop in and receive a warm and friendly welcome.
Crafty Ideas by Kaz Ltd
Crafty Ideas by Kaz Ltd is a long established craft business both online and in store. On-line we have over 8000 products listed with new stock arriving regularly. FREE P & P to UK mainland addresses and dispatch fast; normally within 24 hours. We are stockists of Kanban, Joanna Sheen, Dufex, Flowersoft, La Pashe, Milton & Co, HunkyDory, Card Candy, Pinflair, Magnolia, Cuttlebug, Woodware. A list of our classes is available from our website. Our shop is open 10-5 Monday –Saturday and is disabled friendly with free parking on site
Debs Cards N Crafts
· Suppliers of great value card making embellishments for all occasions.

· We stock 3D stickers, 3D decoupage, charms, die cuts, gems, fabric motifs, paper flowers, card blanks, adhesives, toppers, ribbon & bows, peel offs, beads, vellum, backing papers, printed banners, wooden, metal & resin embellishments and much, much more!

· Stockists of Crafty Bitz, Paper House Productions, Paper Cellar, M.I.C, Jolly Nation, Red Hot Bed, Jolee's, Dufex and Craftime.

· New items added regularly

· Many bargains to be found in our well stocked Pound Shop

Deco Craft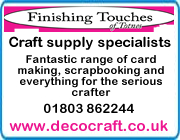 Finishing Touches of Totnes is the Award winning craft shop in the South of England. Established for over 20 years we have a huge stock of craft materials in our 1500 square foot shop. 4 years ago we started our on-line shop www.decocraft.co.uk so we can supply the many customers who visit our store on holiday and enjoyed the experience and want to buy from us when they get home. We stock all the major craft brands and many smaller specialised suppliers including Hobby Art stamps,PCA tools,Fimo,the complete Woodware punch range,Distress Inks,Pebeo Glass,Silk,Fabric and Ceramic Paints,Hero Art stamps,Staz-on Ink Pads,Brilliance Inks and so much more.
Flamingo Crafts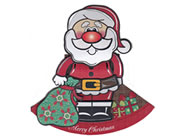 A wide range of card making supplies and craft materials, including brands such as Kanban, Dovecraft and LaPashe.
We are an online shop based in South Wales and we sell at many craft fairs in the local area. Check our website for event information.
Everything you need to make your own great cards:
• Christmas Crafts
• Decoupage
• Card Kits
• Glitter Card
• Adhesives
Free Delivery option over £15.

Inspire Me Papers
At Inspire Me we love paper! We have traveled the world searching for beautiful papers to create a mouthwatering series of unique collections.
Our collections feature more than 1000 high quality products, in over 100 colours in the most stunning finishes and embossing including printed pattern papers.
A user friendly swatch featuring our collection is available for just £4.95 - full cost of swatch is redeemable off a single transaction over £25 – see website for details.
Inspire Me also have a gorgeous range of card kits including Me to You Tatty Teddy Make your own card kits, Cupcake & Cake Slice box kits. Visit our website for stylish paper projects and FREE design templates.

L.J Occasions - Craft supplies
SALE NOW ONLINE - loads of great products with great reductions!
Specializing in cardmaking supplies we stock: peel offs, card & paper, ribbons, embellishments, die-cut decoupage from Craft UK Ltd, stickers, glues & adhesives, craft tools and loads more!
Shop online and pay with PayPal securely or request a mail order catalogue.
FREE goody bag worth £5 will all online orders over £15! (excl P&P)
Loyalty scheme.
Craft classes held regularly.
Shop with confidence with L.J Occasions.



Paper Angels
Paper Angels is your one-stop shop for cardmaking and scrapbooking supplies - whether you are interested in decoupage, stamping or chipboard, we have something here for you!
Stockist of great brands such as K&Co, Fancy Pants, Cosmic Shimmer, Ranger, Bazzill Basics, My Mind's Eye, Hero Arts and much, much more!
Project gallery (with full instructions) – See an example here http://www.paper-angels.co.uk/index.php/Like-a-sister

Craft forum – click here to make new crafty friends - http://www.paper-angels-forum.co.uk/
No minimum order level and fast delivery (normally within 48 hours!)
Exclusive discounts for registered members

Payper Box Ltd
Payper Box offers you the best in pick n mix card. Order a little or a lot from our website p&p is just £2.99 so the choice is yours! We also have a new range of decoupage and 12x12!
Join us in Facebook, Twitter and YouTube

Rogate Paper Supplies
We specialise in Parchment Craft supplies and stock the full range of Pergamano products, ParchCraft Australia (PCA) Tools, Accessories and the exciting new range of Perforating and Embossing Templates.

The Encaustic Art range and Kundalini PaperMaking kits and accessories are also stocked.

Rogate Paper Supplies has been trading for 48 years, supplying the printing trade with a wide range of card, paper and envelopes, also now available to craft customers.

We offer prompt deliveries throughout the UK either by ordering on-line via our website, or if you prefer, orders can be accepted by telephone or post.
Star Blaze
LOOK NO FURTHER THAN STARBLAZE FOR ALL YOUR CARD MAKING, SCRAPBOOKING AND PAPERCRAFT SUPPLIES FROM A HUGE ARRAY OF SELF ADHESIVE CRYSTALS TO SWAROVSKI CRYSTALS, CRAFT TOOLS, DESIGNER PAPERS, EVNVELOPES AND MUCH MUCH MORE.
Take a look at the new glitter paper and papermania stickers. And don't forget to stop by the flowers!! Our products are perfect for making wedding stationery and for adding glitz to greeting cards.
The Decopatch Place
The Decopatch Place is the largest stockist in the UK for all things Decopatch and more.
Decopatch is the funky new papercraft (modern twist on Decoupage) and the papers can be used to cover any surface.
It's addictive!
The Decopatch papers are deep dyed so they will never fade, they are applied with the Decopatch glue varnish to create a hard durable finish it's 'painting with paper'! All the products are available at our online shop or you can phone or visit the shop which is open 7 days a week.