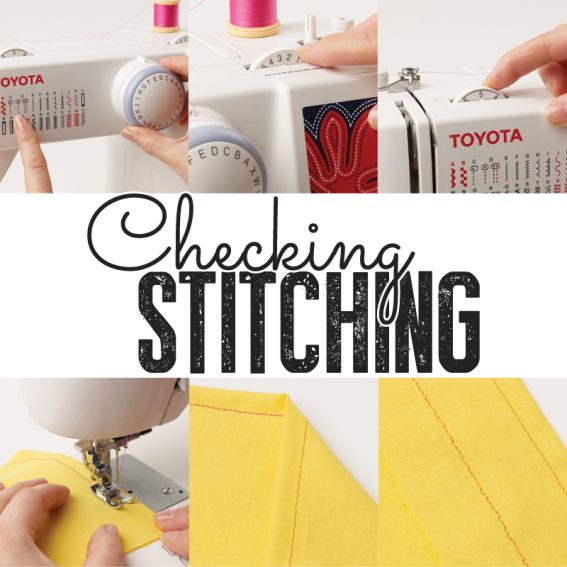 Checking stitching
Once you have threaded your machine, test the stitch to ensure it is working perfectly. It is a good idea to do some test stitching every time you change your stitch selection.






Choose a stitch from the diagrams on your machine and turn the dial to the correct setting.

Choose a stitch length and turn the dial. For most stitching, 2.2mm–2.5mm (13 stitches per inch) is a good choice.

It is best to leave the tension setting on your machine alone. On this machine, a line shows on the dial when it is set to the right tension for most stitching. Beyond that line in either direction, you are loosening or tightening the tension.

Place the fabric under the presser foot, using the right edge or the markings on the throat plate as a guide. These markings denote the distance from the needle when it is in its automatic default position. Arrange your fabric accordingly. Hold the threads at the rear, put the presser foot down and turn the balance wheel to lower the needle. Holding the thread tails in your left hand, start stitching. Guide the fabric through with both hands, neither pulling nor pushing it.

To reverse the direction of the stitching, to secure a seam, push down the reverse button, hold it down and go back two or three stitches. Release the button and continue forwards as required.

To finish a line of stitching, turn the balance wheel by hand to raise the needle, raise the presser foot, pull out the fabric and trim the thread ends very close to the stitching.

The stitching on the left has come out wrong. This could mean that the machine was not threaded properly, or that the bobbin is the the wrong way up.

This shows the stitching as it should come out: the top pink thread on the top of the fabric and the yellow bobbin thread showing on the back.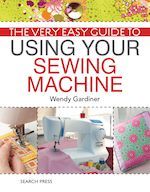 All sewn up!
If something is wrong with the stitching, try rethreading the machine rather than changing the tension as it is more likely to be a problem with the threading.

Get the book
For how essential how-tos, take a look at The Very Easy Guide To Using Your Sewing Machine by Wendy Gardiner (£12.99, Search Press).