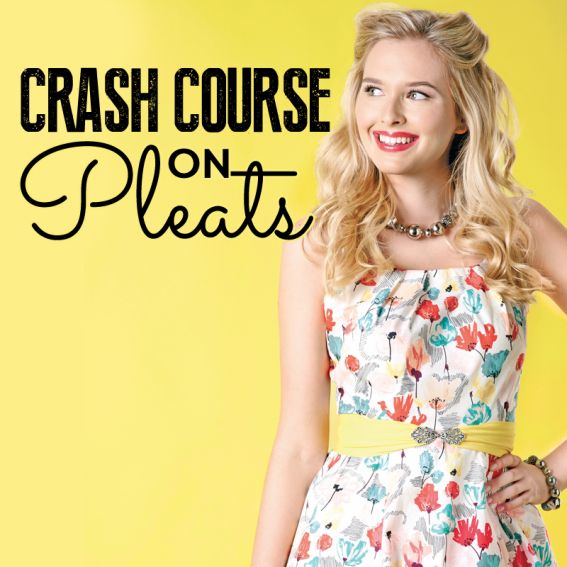 Crash course on pleats
Pleats are folds in the fabric that control fullness. They can be soſt or crisp, depending on the fabric used and whether they are pressed or not.
There are three types of pleat: knife edge pleats all face the same direction; inverted pleats, where two folds are pressed towards each other to one placement line; and box pleats, which are two pleats turned away from each other creating a flat section in the centre.


Mark the fold line and the placement line (the pattern pieces will include these, ready to be transferred to your fabric), using a different colour thread/pen so you can quickly distinguish between them.


When making several pleats, snip-mark the lines within the seam allowance at the top and bottom of the fabric, with pins along the line in between if necessary. Again, use different coloured pins to distinguish between fold and placement lines.


Fold the fabric at the line mark along the length, then bring the fold to the placement line. Repeat for all the pleats, then hand or machine tack across the top to hold the pleats in place.


All pleats need pressing to set them. Use a press cloth to help prevent ridges from the fabric layers showing on the right side of the garment. For soft pleats, use a dry press cloth and apply a little steam hovering the iron just above the fabric. For crisp pleats, use a damp press cloth and lots of steam and the full pressure of the iron.