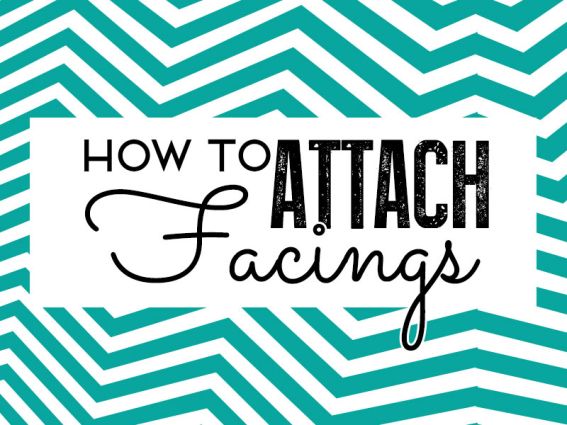 How to attach facings
Facings are used to neaten the raw edge of openings such as armholes and necklines, as well as adding support and structure. Properly stitched they should be invisible on the outside of the garment.
Cut the facings from the pattern pieces provided. If working without a pattern, use dressmaker's paper to trace your own by following the neckline shape. Mark another line 6cm from the neckline to create the facing. Remember to add seam allowances to any edges that will be joined together (i.e. at the shoulder seams and back opening).


Cut facings in the same fabric as the garment unless it is being made from a heavyweight or textured cloth, in which case, use a lightweight lining to reduce bulk. Cut interfacing to the same size as the facing, then trim it down so that it will sit just within the seam allowances. Fuse it in place securely.


Attach the back facings to the front ones at the shoulder seams. Press the seam allowances open. Neaten the lower raw edge by overlocking, overstitching or zig zag stitching. Press. Pin the facing to the garment neck edge, right sides together, matching the shoulder seams and openings, then stitch.


Lightweight fabrics the seam allowances can be trimmed together. On medium or heavyweight, grade the seam allowances by cutting one to 3mm and the other to 6mm which will reduce the bulk in the seam. Snip diagonally into any curves and at V-necks, snip down towards the stitching. Press.


Open out the facing and press the seam allowances towards it. This is so you can understitch, helping the facing to remain inside when you turn it in. On some necklines you may not be able to understitch all the way round, in which case, go as far as you can. Turn the facing to the inside, rolling the seam so it is just inside the edge and press again. Hand stitch the facing to the shoulder seam allowances and back neck opening.