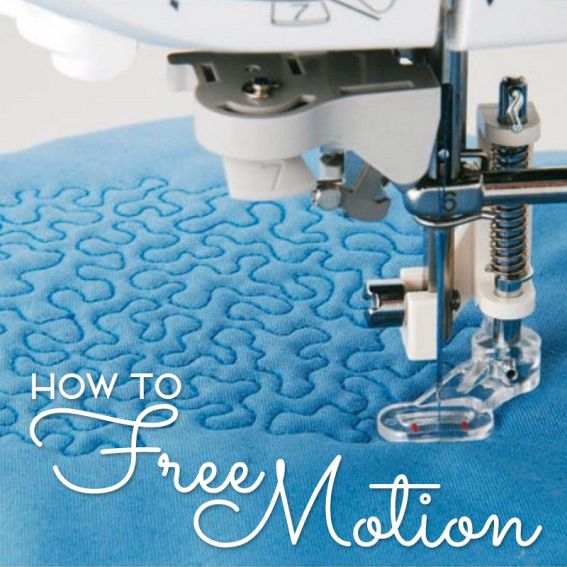 How to Free Motion
Free motion sewing allows you to stitch in all directions for machine embroidery and quilting.
Lower the feed dogs by using the slider either at the back of the machine behind the needle, or at the front, visible when you remove the flat bed attachment. Most models have little embossed diagrams next to the slider, with teeth below a line (lowered feed dogs) or teeth above the line (raised for regular sewing).

Attach a darning foot – to do this you will need to unscrew the shank holding the clip-on feet and remove it. The darning foot has a U-shaped clamp which wraps around the shank stem and is held in place by the screw. Note, when lowered it does not sit firmly on the throat plate as a regular presser foot, rather it hovers a little way above.


Set the stitch length to 0 or as close to 0 as possible. Thread the machine with normal thread and back your fabric with interfacing, stabiliser or wadding. The latter will give the fabric a nice textural surface as the stitching holds layers together firmly and the unstitched areas will appear slightly raised. Interfacing or stabiliser provides added support to the fabric, which will prevent it puckering as you stitch.


Place the fabric under the needle, lower the presser foot (even though it doesn't grip the fabric, it needs to be lowered to engage the tension discs). With hands flat on the fabric either side of the needle, put your foot on the pedal and start moving the material in any direction. It is best to put your foot down firmly so the machine is going fast and you then move the fabric slowly. The slower you move, the smaller the stitches, the quicker you move, the larger the stitches.