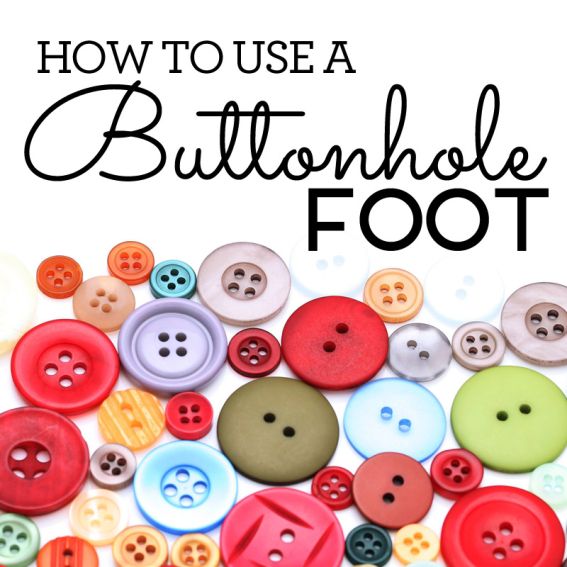 How to use a buttonhole foot
For a buttonhole foot with button placement, you will see two protruding arms on the left of the foot. Push the back one away from you to open it up. Place your button in the gap and bring the back of the foot forward again so it is held snugly.

Clip the foot into place on your sewing machine, then pull down the lever which is tucked under the back-left side of the sewing machine, adjacent to the needle mechanism. It will have a little button illustration on it. Pull it down so it butts up against the front protruding arm on the foot.

Select the buttonhole stitch. Try it out on fabric scraps that are the same type and thickness as the one you will be working on (make sure there are at least two layers of fabric, preferably interfaced for added stability). Most machines will stitch the hole from front to back.

When the buttonhole is complete, take the thread tails to the back of the work and feed them between fabric layers before snipping off. Push the buttonhole lever back up.

If your foot doesn't have the sliding back for the button, it will have markings to help you achieve the buttonhole size. First measure the diameter and add 3mm. Mark this length on your fabric. To create the right size buttonhole, you will stitch from the first marked line down to the second. Attach the foot as above, with the front marking on the foot in line with the mark on your fabric.