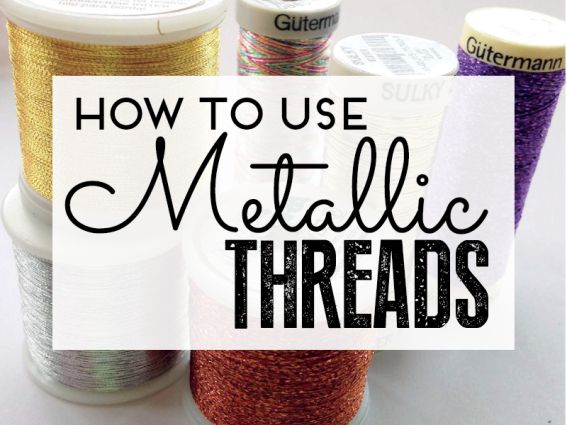 How to use metallic threads
Metallic threads are ideal for embellishing, customising and adding stylish design details to your projects
Metallic threads have metal in them, hence the name. This can wear away tiny grooves in the eye of the machine needle, which then snags the thread causing it to shred or break. Metallic needles have a larger eye which is coated to prevent this happening. They are available in different sizes to suit various fabric weights.


If you don't have a metallic needle, try an embroidery or topstitch one and keep it for metallic thread only. These also have larger eyes to help the thread slip through more easily. Use additional needles for the different types of metallic thread as they will all effect the eye of the needle differently.



Slow your stitching speed down. Metallic threads are more delicate and tend to break easily at very fast speeds, particularly when sewing decorative stitches. Reduce the speed dial on your machine or press more lightly on the foot pedal. If you have difficulty in
controlling the speed with the foot pedal, turn it over and press the underside – it helps with the control!


Use a basic colour thread in the bobbin such as white for light fabrics and grey for dark ones. If the bobbin thread comes to the top of the work when sewing decorative stitches, try using a reel of Madeira Bobbinfil, which is a lighter, finer thread.


It is often better if the thread is held on an upright spindle, rather than the horizontal one. If your second spindle (usually inserted for twin needle stitching) is vertical, use this instead. Otherwise, you can put the thread in a cup behind the machine and feed it up from there.


Sewing with metallic thread is one of the few times when it may be necessary to adjust the tension on your sewing machine. Reduce the upper tension (lower number) if it becomes necessary. Remember to always try out the stitching on a sample of fabric first.