26 Aug
2019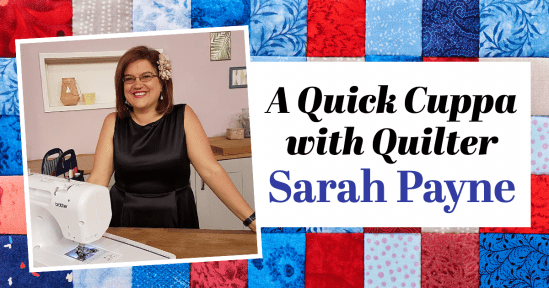 Hi Sarah! First things first, what kickstarted your love of quilting?
I have been sewing forever! I used to watch my mum make clothes when I was a child and I was obsessed with the scraps. Many a Cindy dress was sellotaped together in my house. I fell in love with quilting about 20 years ago after watching American Quilting Queen Eleanor Burns on TV make her 'Quilt in a Day' and I was hooked. At the time, my mum lived in Ireland and Eleanor was only available on TV over there, so Mum would video the shows and post the tapes over the England so I could watch them. I loved it, and once I signed up for a workshop near my home I was hooked! Excitingly, Eleanor Burns got to hear about this a few years ago and she sent me a personal message on Facebook – I had a complete Fan-Girl moment and then burst into tears. Perhaps one day we will meet in person and I will try harder to hold it together.
Your new book Sarah Payne's Quilt School is out this September, what inspired you to put this together?
I get a lot of feedback from people who watch my shows on Create and Craft, and they are often looking for the very basics: What is a seam allowance, which is the right sides of a fabric, how do I quilt my first project? A common message I get from social media is, 'I want to have a go at quilting, where do I start?'. This is where I want the book to begin. I want it to lead readers by the hand from the most basic shapes – squares but then inspire them to expand to more challenging shapes and improve their skills throughout the book. It is aimed at the complete beginner – the person who has just brought their first fat quarter bundle, rotary cutter and matt, and now wonders what to do next. I hope this book will be the starting point for a fascinating quilting journey for people.
What was your favourite moment of putting the book together?

Writing this book was incredible, from the very beginning. I write a lot of articles and patterns, but a book is a whole new experience. The team behind it were so helpful and every step was great fun, from the planning meeting with huge sheets of paper as I worked with my editor Lyndsey to decide what went on every page, to the days of photography when the quality of my manicure suddenly became very important! The relationship with your editor becomes very close and I think that has to be my favourite thing so far. Obviously, everything is topped by the moment you hold the first real copy in your hands! My favourite project must be the Disappearing Nine Patch project. Firstly, it was the second pattern I ever learnt, and the first quilt I actually finished, and I think it is hugely underrated as a design. It is the perfect project for a beginner because it looks more complex than it is and so you get a special sense of achievement when it's done. It also scales up easily – just change the size of the squares. It is my go-to pattern when someone needs a quick quilt making. Secondly, the one in the book was made from some gorgeous block printed fabric that I brought during my recent trip to India, which makes it extra special.
Where do you find the inspiration for your designs?
For me it is down to a love of fabrics, and that is my starting point for a design. Once I have the fabric, I am looking at the scale of the print, the direction of the design and what the project is for. Usually it is for TV, and so the size of the TV studio is an important aspect – there is no point creating a king size bed quilt if I am in one of the smaller studios and you will only get to see about one metre of the piece. It is about working on a design that shows the fabric off to it's very best but to strict deadlines. Often it is about keeping the design simple to showcase the fabric. If it is a quilt for me, it usually still starts with the fabric – I love bold colours and I use a lot of white tone on tone fabric in my work to keep colours bright. I love to play a bit more and I adore free motion embroidery and raw edged applique.

Tell us about your sewing room. Where do you store all your quilts?
My sewing room is usually in a state of barely controlled chaos. With 30 odd TV shows a month there is fabric coming in, fabric being used, and fabric that has been used and now needs 'filing' – but I can usually get my hands on something when I need it. I do a lot of social media things from my sewing room, and a common comment is "I don't feel so bad about my mess now'. But it is a working space – and what you see is what you get. When I have a fabric launch (which can be as many as two a week) I try to make a quilt, a couple of cushions and perhaps an item of clothing. These all need to be stored because the fabric may be in stock for a while – which is where racking in the garage becomes vital. Otherwise we wouldn't be able to move in the house. Everything is boxed, labelled, and ready to be grabbed at a moment's notice, which means it is tidier than my sewing room.
For some stitchers, the thought of tackling a quilt can be a little daunting! What advice would you give to sewers who are new to the art?
Start small! You don't need to make a double bed quilt with your very first project. If you like the look of a block, then start by making it as a cushion. If it works out and you fall in love, just keep adding blocks until you have a quilt! That's why I have included a couple of methods in my book for finishing cushions, as well making table runners and bags too. Take small steps that can be finished quite quickly and the feeling of success you get will propel you onto to bigger things!
What's been your most memorable quilt?
I think of quilts are incredibly personal items and they take time, money and effort to create. Because they provide warmth, and you can wrap yourself up in one, I feel it is a hug that you can enjoy when I am not with you. If you are lucky enough to be given one of my quilts, it is because I love you. So my most memorable quilt is very personal indeed. It was a disappearing 9 patch that I made for my Dad and it was my first completed project. My dad kept it on his bed for years, and when he had to move into a hospice last year it had to go with him as a piece of home. When he passed away, he wanted to take it with him, so he was cremated wrapped in this quilt. When I think of that quilt, I imagine it keeping him warm for all eternity!
Readers may recognise you from your presenter role on Create and Craft. How did that opportunity come about?
I was approached by Create and Craft after Jennie Rayment gave them my name (so this is all her fault!) I was running a fabric shop and workshop centre and they were looking for someone who could demonstrate Simplicity rulers on TV. I resisted for a while – I had been doing crafts on BBC Radio Cambridge and that was enough. I wasn't keen on the idea of TV. But no one says No to Jennie for long, and so I went for a screen test. That was 6 years ago now and I still love it, despite the long hours and pressure of constantly coming up with ideas for shows. It has opened so many doors for me and I have met so many fantastic people. I even have my own show now – Sarah's Sewing Studio – which is on once a month. I can't believe that I am lucky enough to have a hobby that is my job – and a job that is my hobby! Over the years there have been many funny moments – some of which I couldn't possibly repeat including mis spoken words, wardrobe malfunctions, machinery malfunctions, a presenter (who shall remain nameless) falling asleep on my show because his young son wasn't yet sleeping through the night yet, and many more. But the best thing is the fun we have. There is a real respect between the presenters and the guest, and real friendships and I think that really shows on screen. This obviously leads to mishaps and Nigel May is the worst culprit for making me laugh!
Your quilts have taken you in front of the camera and all over the world, what has been the best moment of your career so far?
There have been so many to choose – obviously the book is a huge moment for me. Launching my first fabric range earlier this year was major! Just going into a store like Hobbycraft and seeing your fabric on sale is a dizzying moment! I admit to taking a sneaky photo when I hope no one was watching. But my personal highlight was teaching for a Charity called Quilts For Kids in Nepal in 2017 and again in 2018. I was teaching a group of ladies who live in a slum in Kathmandu who make quilts to sell – and the proceeds from each quilt pays for one of their children to go to school for a year. The picture is dark because the room/home I was teaching in was a brick shack with no electricity, furniture or even a window. But the love and laughter that emanated from that room today was incredible and I am delighted to be involved with such a worthy charity. Teaching is something I love to do and watching someone grasp something new is always an amazing feeling.
Treat yourself to this fabulous quilter's latest book Sarah Payne's Quilt School, £12.99, searchpress.com