12 Mar
2015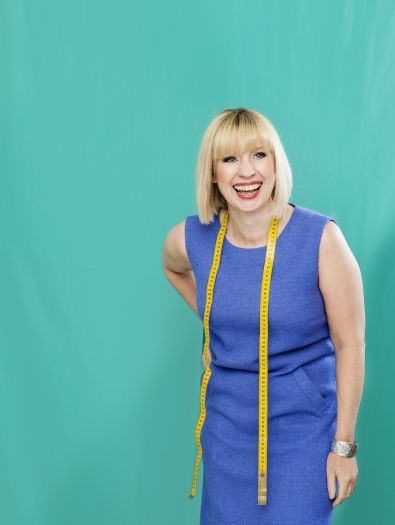 Sewing Producer on The Great British Sewing Bee, Claire-Louise Hardie shares her top tips for successful pattern hacking.
What can we expect from your new book, The Great British Sewing Bee: Fashion with Fabric?
My new book is aimed at all dressmakers, from newbies to those with years of stitching under their belt. The TV series highlights excellent sewing skills, so I wanted to include some advanced projects that matched the talent we see on screen, as well as some really easy projects for beginners. I've designed all the pieces as timeless elegant shapes, that will suit any age, and that can be made up again and again in different fabrics to create a truly unique handmade wardrobe. Being asked to write a book of this scale was a dream come true for a passionate dressmaker like myself; the only problem was choosing what not to include! I had so many ideas buzzing around my head, particularly as I was really inspired watching this year's contestants make clothes on set.
There are lots of pattern hacks to try – what made you include them?
In my own sewing practice, I make up a pattern, perfect the fit, then use that same pattern over and over in different fabrics, changing details like sleeves, cuffs, collars and hem lengths. This way I'm not repeating the fitting stage. It was this that made me want to encourage people to 'hack' the patterns in the book, and try different variations. We've included at least one hack for most of the patterns, but it's my hope that readers will take this idea and create their own designs. I'm hoping, for example, to see the corset and jumpsuit hacked together to make a chic evening jumpsuit, or even something more fabulous that I have yet to imagine.
Did anyone go 'off brief' and start adapting patterns on the Sewing Bee this series?
The series three contestants were a truly unique bunch! I can't share any of the specifics, but throughout the series you see many of the 'three bees' as we called them, playing around or hacking patterns until they get the look they wanted
What's so great about pattern hacking and why should people try it?
Patterns are not cheap, so why not be thrifty and re-work the ones you've got? Once you've made a pattern and got it to fit well, it's great to use that same pattern over and over in different ways knowing that you'll get a great fit every time. You could, for example, take the sleeve pattern from your favourite blouse, and add it into the shell top pattern you love, then lengthen the top to make a dress. It will look nothing like either of the patterns you started with, but will be just want you want, and no-one else will have the same garment.
What advice would you give to stitchers before they try hacking a pattern?
Just like following a recipe, it's a good idea to make the pattern up exactly as the instructions say before you start messing around with its 'ingredients' or pattern elements. Once you've understood how the pattern works, it's then easier to play around with. Don't like the puffy look on a gathered skirt? Next time, make it up with pleats, which are often more flattering. It's also essential to make a copy of the pattern each time you chop it up, that way there's always the original to re-hack and make up again.
What are your top tips for a successful hack?
1 Make sure the pattern has been fitted to you before you hack it.
2 Always trace a copy of your original pattern, and hack the copy, not the original.
3 Add seam allowance to any new seamline you're creating. If you've decided to colour block a shift dress for example, by drawing some geometric lines across the pattern, each of those new seam lines will need seam allowance added on either side, or the dress will be way too small.
4 Let your imagination run riot, there's nothing wrong with making a few mistakes, and you'll probably learn along the way and have some fun, too.
5 Select patterns that look like clothes you want to wear. There's no point starting with a pattern that's in a style you'd never find in your wardrobe.
6 Be prepared to do a little maths! When hacking together pieces from different patterns, you need to measure the areas that will join together and make sure they fit. This means you may need to add in extra or take away some bits of the pattern. Do a pattern audit of your favourite makes. Write a list of which bits of each project were the reason you loved the make, that might inspire you to combine some of those elements into one new project.
Visit www.thethriftystitcher.co.uk


Last Minute Christmas Gifts
3 Dec 2021
#AD It's finally December and with Christmas just around the corner so begins the mad rush to get all of our…