25 Jan
2017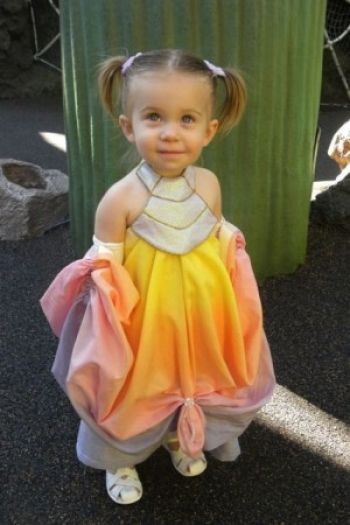 Lane Rouch may only be five years old but she is already something of an internet sensation, thanks to the fabulous costumes that her mum Jennifer has been sewing for her over the last few years! Many of the outfits are Disney-themed and the Rouch family has annual passes to Walt Disney World in Florida, allowing them to visit regularly with Lane wearing one of Jennifer's fantastic creations. This has made Lane very popular with the park's cast members – and with the many people who view her parents' photos of her on Instagram!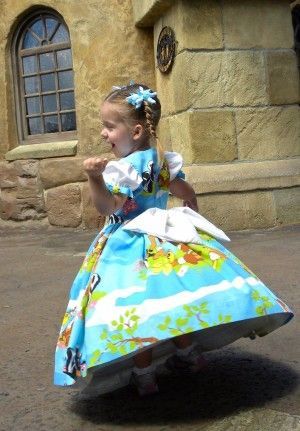 Online sensation
"I first started posing pictures of Lane on Tumblr for my friends to see , then my husband set up an Instagram account so he could do the same," Jennifer tells Sew. "It was all very low-key at first, until we went to a spring 'Dapper Day' (a regular event where World of Disney visitors dress in smart outfits inspired by their favourite characters), with Lane wearing a Jane Porter costume from the movie Tarzan. The cast members started taking notice of her, and people began seeking us out and asking if they could be our friends on social media."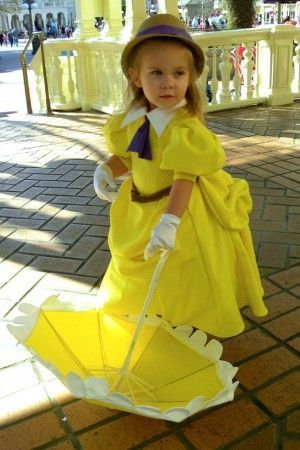 "I just enjoyed making new friends at the parks and every time we visited, the more wonderful people we met. Word got around and we got even more followers on Instagram. We then got 'shouted out' by a popular Twitter account, Common White girl (@girlposts) and suddenly had a huge jump in followers which was very surprising. Although it was a slow build up to that point, it was overnight after that. Then we were contacted by the Huffington Post for an interview, and it grew exponentially in just a month."
"I just continued to make dresses for Lane because I really enjoy cosplay, and Lane had so much fun wearing them. That's always been my motivation. If the social media hadn't taken off, I would still be sewing her costumes just for fun."
Thrifty stitches
Jennifer comes up with each costume from scratch, sourcing her own materials. "In the beginning I made a duck tape dress form of Lane so I could fit her well – toddlers don't like to stand still for fittings very much!" Jennifer smiles. "Mostly I just drape the fabric and create my own patterns by referring to the original costumes in the movies. So many of the dresses I've made have been chosen because of the materials I've been able to find."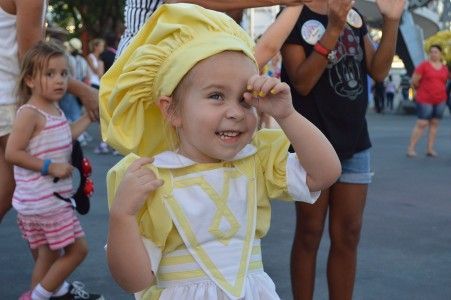 "I love to upcycle since it's very environmentally friendly, and I also enjoy shopping at thrift stores because you never know what you will find. In fact, the fabric for Lane's Jane Porter dress was a tablecloth that I found at a Goodwill shop. The moment I saw it, I knew it was the perfect colour and no matter how hard I looked I never found another fabric that was as bright as that yellow tablecloth. Occasionally, I do find bolts of fabric in a sewing store that is perfect, but I've had more luck finding materials in thrift stores."
Jennifer has a long list of ideas for costumes that she'd like to sew for her daughter, inspired by movies and TV shows. "However, now that Lane is older, she has her own opinions about who she wants to dress up as, and I have to respect that," Jennifer explains. "Last year, she specifically asked to be Dorothy from The Wizard of Oz for Halloween so I made that costume for her. She was very excited the entire time I was working on it, monitoring every step of the process. And that's what I'm now looking forward to most – being able to pass on not just my love for sewing to her, but also a work ethic. I want her to learn the value of creating. Anyone can go out and buy a costume, but there's a special joy in creating something one-of-a-kind."
Jennifer's top tips
* Thrift stores or charity shops are a wonderful outlet for finding cheap fabric.
* Look out for table cloths, bedsheets and shower curtains – they provide plenty of material and are easy to upcycle.
* If you can't find the exact shade you need, don't be afraid to dye your fabric to achieve the proper colour.
* It's exciting to walk into a store, not knowing what you may find – the hunt is half the fun!
Don't miss more of Jennifer and Lane in our Beauty and the Beast article, featured in the March issue of Sew on sale 9th February.
See more of Jennifer's costumes modelled by Lane at www.instagram.com/ferdalump/