28 Jul
2020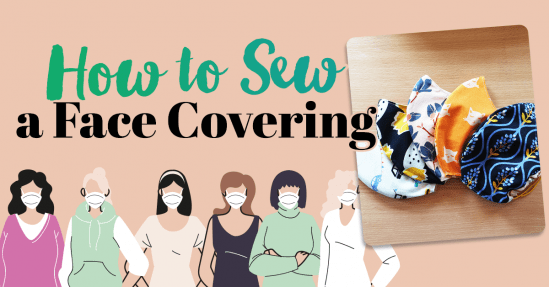 Wearing a face covering in enclosed public spaces, such as in shops and on public transport, is set to be a way of life for some time, so everyone needs a good stock of easy-to-make and simple-to-use face coverings. You'll find once you've made one, it's just as quick to stitch a batch and share them around with your friends and family too!

How does a face covering work?
The purpose of this closely fitted shape is to cover your nose and mouth, and trap droplets that you breath out reaching those around you – and others do the same for you when they wear a mask – which reduces the likelihood of spreading Covid-19. As these are face coverings, rather than medical grade masks, they should only be worn once before being washed and pressed firmly with a hot iron, which will help to kill any remaining germs.
Choose tightly woven, absorbent and breathable fabrics, such as quilters' cotton, but bedlinen will also do. Avoid 'loose-weave' materials, such as knitted or crocheted items, or synthetic non-absorbent fabrics. If you use lighter fabrics such as cotton lawns or silks, you can easily add a third layer in a slighter thicker fabric.
Check the government website for the latest guidelines on suitable materials, and when to wear a face covering.

How long does it take to make a face covering?
It needn't take long to sew a face covering. This quick version uses two layers of quilters cotton fabric, each just 17cm x 32cm, which is a great way to use up oddments. Why not make yours reversible?
If you want to include an extra layer, double up on one of your fabrics, or use something plain like calico or old cotton bedlinen. Once you have all your supplies, you can whip up one of these masks on a machine in under 10 minutes!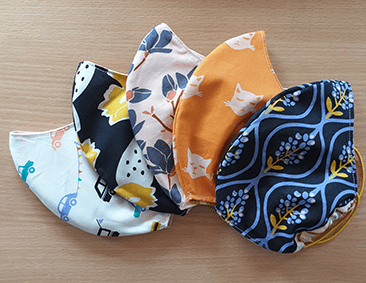 What materials do I need to make a mask?
All you need to make a mask is:
- Suitable fabrics (each basic mask uses two pieces, 17cm by 32cm): quilters cotton, twill, calico, silk, old bedlinen/shirts
- Blunt knitting needle or similar (optional)
- Elastic: 2mm round or 6mm flat, 50cm
- Small plate or cup (optional, to help you with drawing curves)
A seam allowance of 6mm is included in the template.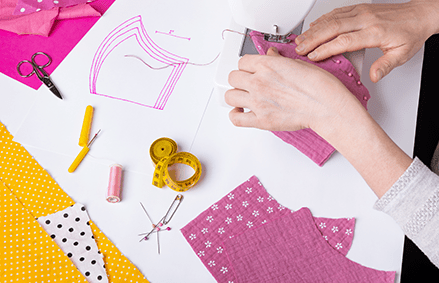 Do I need to adjust the template to fit my face?
Much of the fit will depend on how tight against the face you want to wear the covering, so you may want to tie the ends of the elastic while the mask is in place. Bear in mind that if elastic is too tight or too thin, prolonged wearing will rub on the backs of your ears. A smooth, 2mm, round elastic seems to be most comfortable.
The template given is for an adult, so we suggest you take this as a starting point and make a test mask, then adjust your pattern to accommodate different faces, if needed. Write a name or label on each paper template for future reference.
For a child or small adult, reduce down on all sides evenly.
To fully cover a beard, increase the depth.
To reduce glasses steaming up, make sure that the top of the mask sits under the frame.
Step 1: Make a template for a face covering
Draw a 16cm x 17cm rectangle on a piece of paper and draft the basic pattern following the measuring guides in the photo. Use small plates or cups to get clean curves, if needed. Cut out the shape.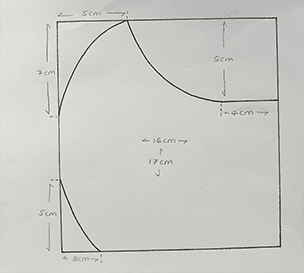 Step 2: Cut the fabric for a face covering
Fold two pieces of 17cm x 32cm of fabric in half, right sides together. Transfer the template to one, checking you're happy with any pattern orientation, then stack both pieces and cut out to make two mirrored pairs.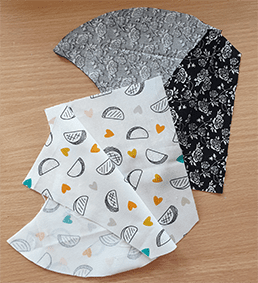 Step 3: Stitch each pair together along the curved front for the face covering
Stitch the matching pairs together along the curved front part. Leave one pair right sides together and turn the other pair right sides out, finger pressing the seam to lie flat.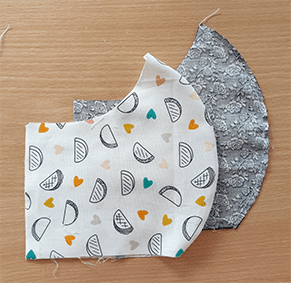 Step 4: Pin the layers together for the face covering
Open out each piece and pin right sides together, carefully matching up the sides and the centre seams.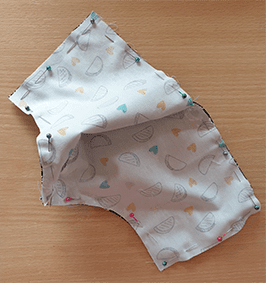 Step 5: Sew around the edge of the face covering
Using a 2mm straight stitch, sew all the way around the edge of the face covering, leaving a 3cm gap in the centre of one side for turning through. Clip the corners, then turn the right sides out through the gap in the side seam. Use a blunt knitting needle or similar to push out the corners carefully, then press the seams.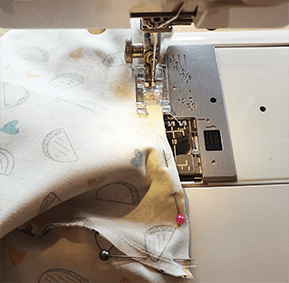 Step 6: Press the elastic channels for the face covering
On each short straight side, fold in 1cm and press to make the channels for the elastic.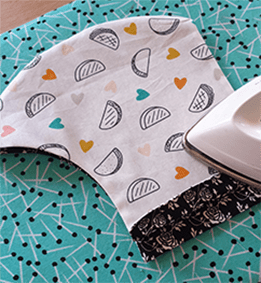 Step 7: Stitch down the channels for the face covering
Stitch each long folded edge close to the side seam, making a wide channel for the elastic. Reinforce these channels at the top and bottom with extra stitching as these will be under stress.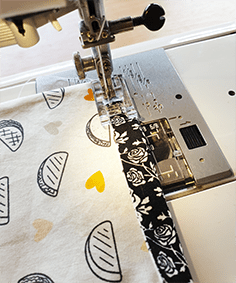 Step 8: Thread the elastic through the channels for the face covering
Cut two pieces of elastic, 23cm long, and thread through each channel. (Use a small safety pin through one end, if needed). Measure the elastic for fit, if you can, then tie each length into a tight reef knot. Slide the elastic around to hide the knot inside the channel.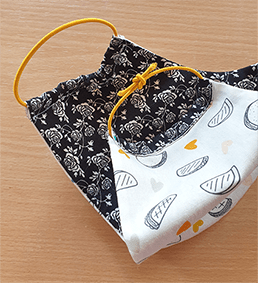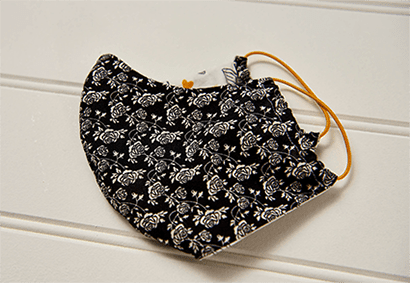 Be part of Britain's Big Community Sew launched by Patrick Grant
Did you know you can also join the nationwide Big Community Sew project set up by Patrick Grant, our favourite gentleman tailor and ever-discerning judge on The Great British Sewing Bee? This fantastic initiative has sewers of all ages stitching face coverings for those in need and provides essential resources for sewers making for friends and family too.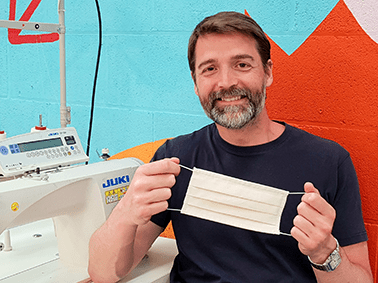 Stay safe!
Send us a picture via Facebook, Instagram and Twitter! Bookmark out blog in your browser, and keep checking back as we'll soon be posting links to Corinne's video to make this very mask!
Remember! We are in an evolving situation and advice may change rapidly, so always check the government website for the latest guidelines on suitable materials and when to wear a face covering.

Picture credits: Shutterstock/Insta-photos, Shutterstock/Suti Stock photos, Shutterstock/Prostock-studio, VOJTa Herout

101 Guide To Grading
11 Nov 2020
The fashion industry has started to rewrite the rules when it comes to the one-size-fits-all formula, by embracing women of…

Top 5 Indie Patterns
19 Nov 2020
If you are searching for sewing inspiration, look no further than this fantastic collection of patterns from independent designers. From…



Top 5 Indie Patterns
19 Nov 2020
If you are searching for sewing inspiration, look no further than this fantastic collection of patterns from independent designers. From…