10 Nov
2017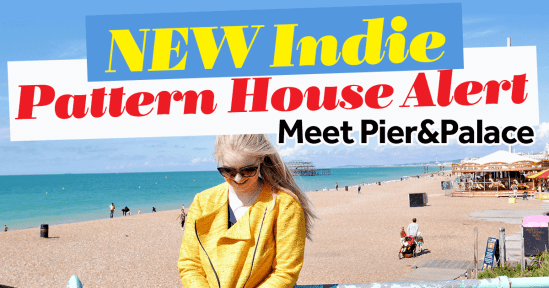 Before launching Pier&Palace, I didn't realise the sheer amount of people who love PDF patterns. Turns out, it's an awful lot!
We've been getting to know Karen Thacker, the founder of brand new indie pattern house Pier&Palace. We're so impressed by everything this up and coming designer has done (spoiler alert: worldwide travel, wedding dresses and brilliant ideas) and know you'll love her as much as we do.
Psst, there's a 10% discount code to use on her fab Kemptown jacket at the bottom of this post!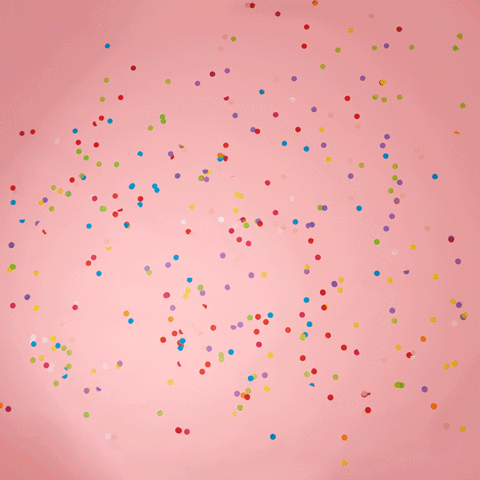 I'm Karen and the designer/CEO/tea maker at one of the newest PDF pattern companies - Pier&Palace. So here's a bit more about my history, how Pier&Palace came to be and where we're going in the future. It's really hard to say when I started sewing or designing, it's just been a core part of my life for as long as I can remember! I am incredibly lucky to have a super skilled seamstress as my Mum, who also picked up on my love of twirling strips of fabrics around myself as a toddler.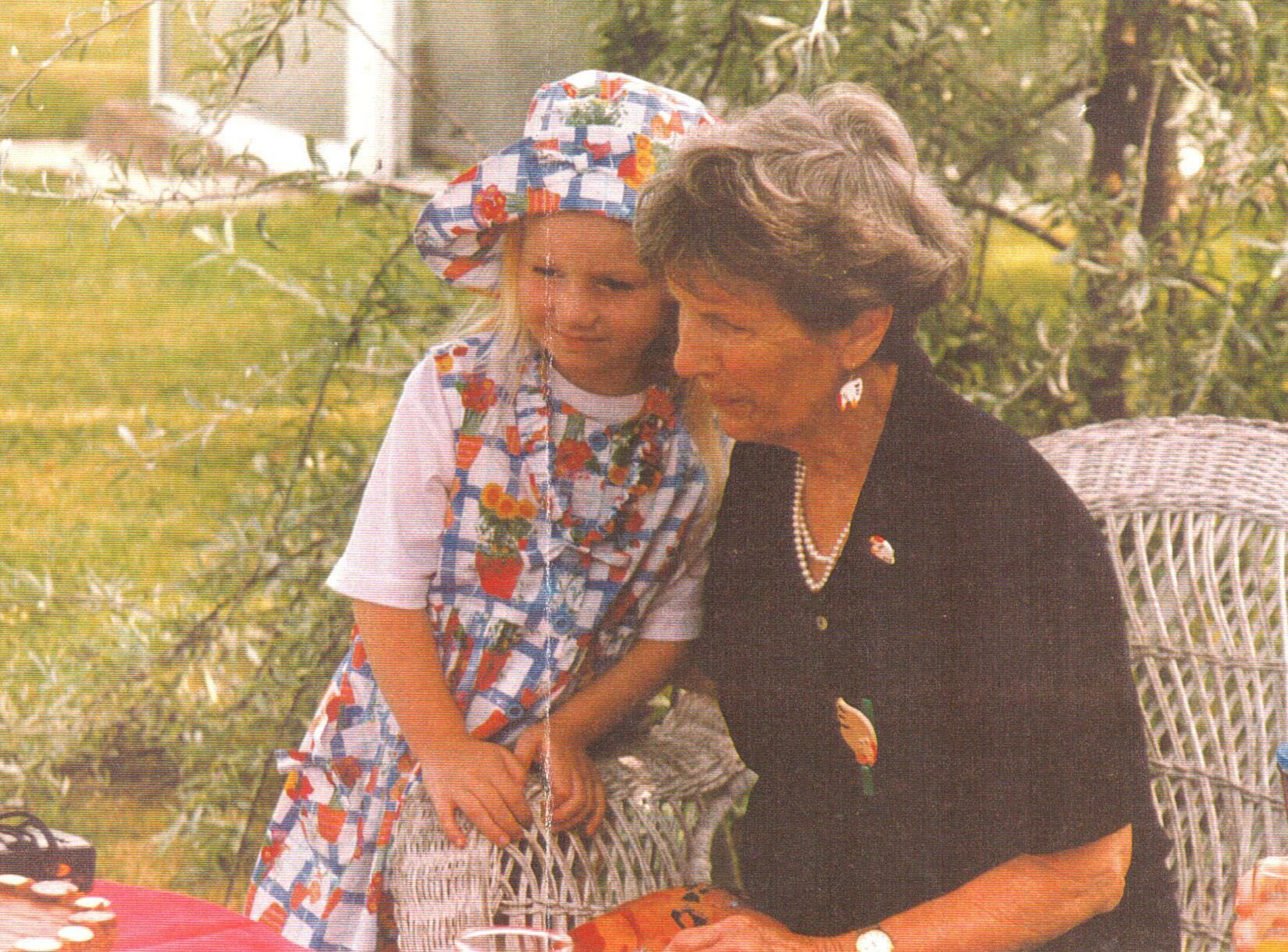 Flowerpot fabric chosen for a garden party - toddler logic! Matching dress, hat and hairband worn as a necklace
She would let me 'design' my clothes; we'd choose the fabrics (with many discussions on why the nastiest sparkliest pinkest organza would not be suitable for everyday) and buttons, 'draw' my ideas with crayons and she would somehow make the most beautiful things for me… I think she might have regretted this later on, as I ended up never wanting to wear anything the same as anyone else. Even my school uniforms had to be tailored to my design!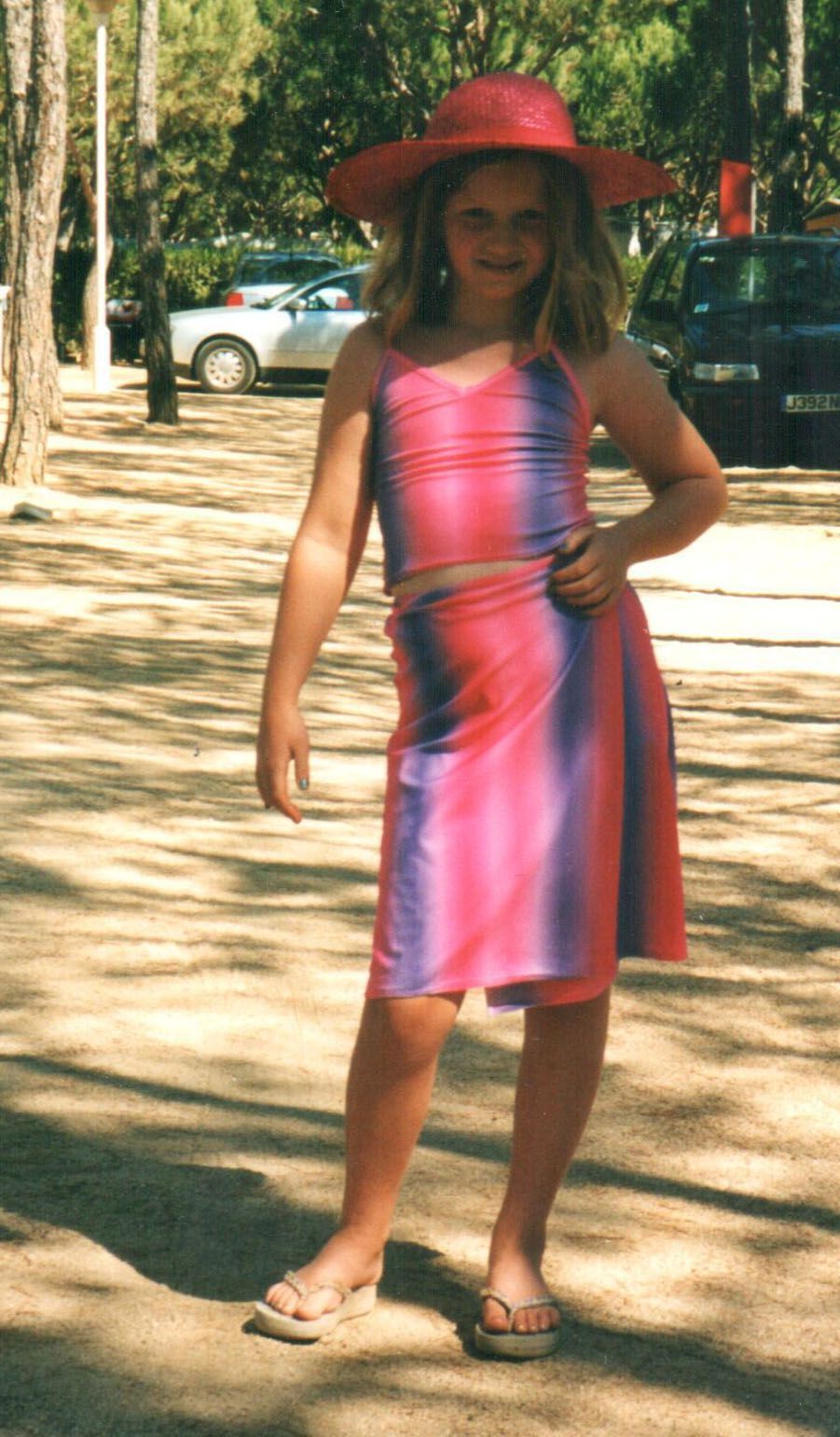 First swimwear design: a two-piece with matching wrap skirt.
I learned to sew early on but I was always much more drawn to designing, styling and later on pattern cutting.I studied fashion at college and then university, where I really found my love of pattern cutting and technical quality stood out. I was lucky to have some brilliant pattern tutors who helped me push myself and develop knowledge in finishings.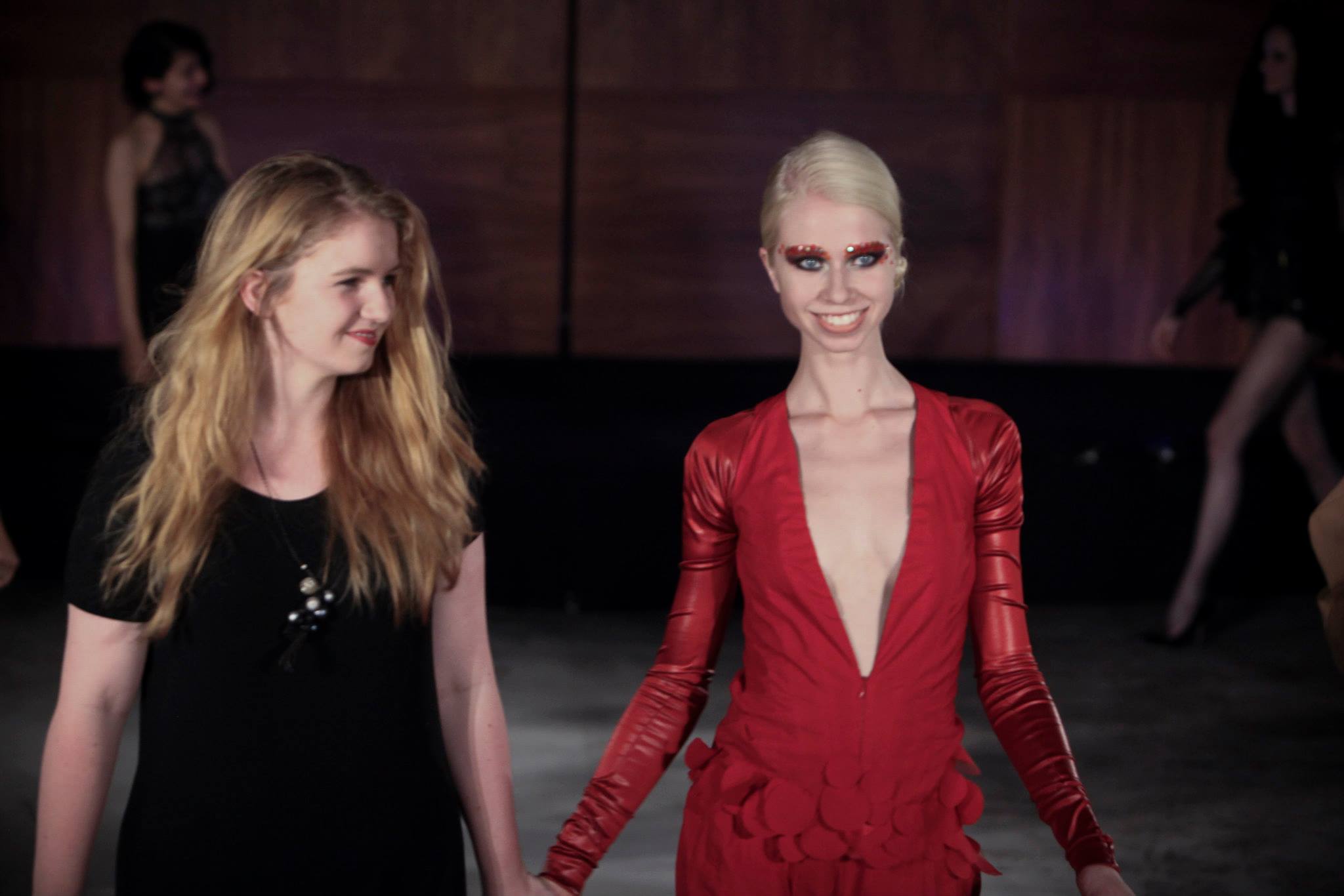 My university honours collection show
I've been working in the fashion industry as a technical designer/garment technologist, specifically in bridal and occasionwear, since university. As time went on I found it harder and harder to ignore the ethical and ecological consequences of the fashion industry, but still loved quality design. It's been difficult to break away from the mainstream career I was in, but I am so pleased it has resulted in being able to focus on producing designs that are both about made-to-last quality, fashion-forward and made in an ethically responsible way.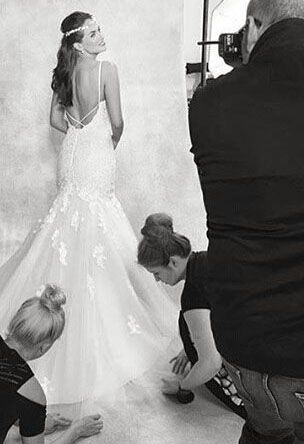 Photographing bridal gowns require all hands on deck
I've always loved adventures. My University study was abroad in Amsterdam and a recent trip to India really solidified my desire to get another longer-term experience somewhere else in the world. As much as I hate to use a cliché phrase, travel really does broaden the mind! My partner received a job offer in LA earlier this year, and despite it often being considered a centre of consumerism, it also has one of the largest followings in the world for ethical and environmentally aware living. Those avenues of opportunity made LA feel like the perfect place to grow Pier&Palace. Both Brighton and Los Angeles are known for their relaxed and confident, often quirky yet fashion-forward vibes. Not as harsh as bigger, greyer cities, yet still modern and cool. My personal aesthetic of course comes into it too, I love strong, feminine clothes which are easy to wear and suitable for wherever the day takes me.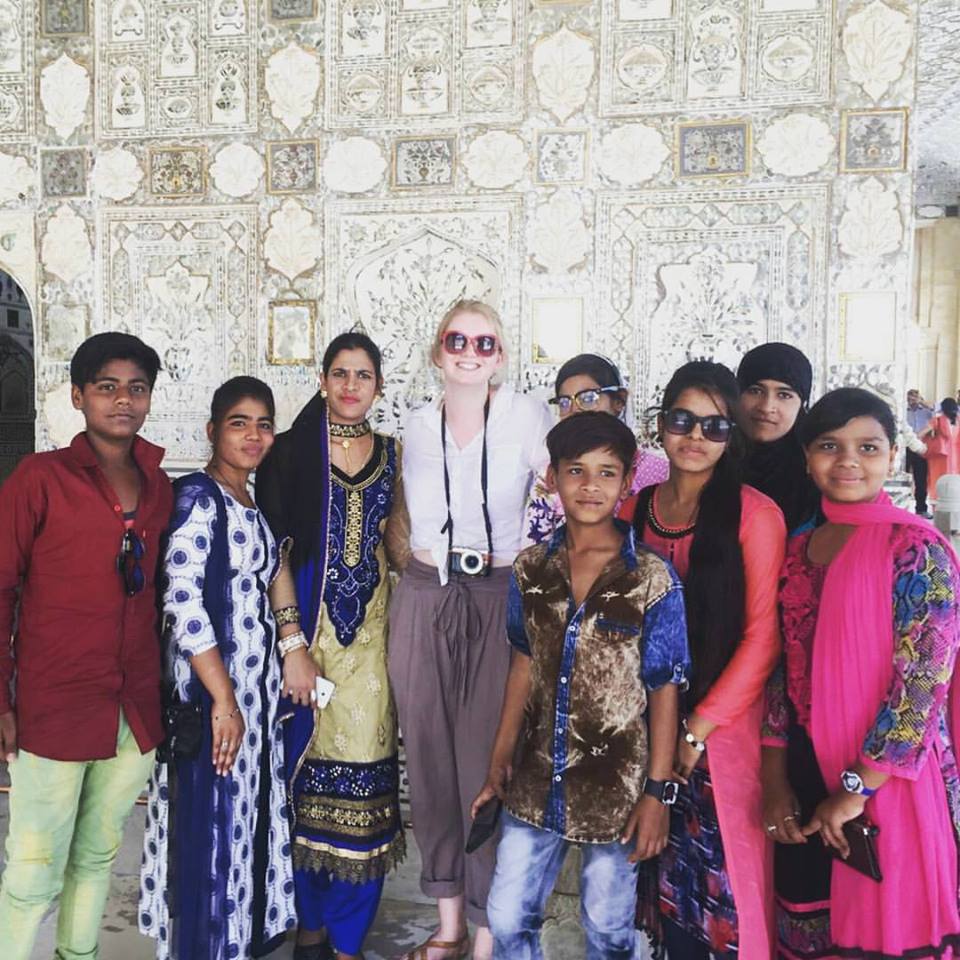 Feeling like a celebrity at the Amber Palace, Jaipur
My patterns are all designed to last. Classic, yet with great details that make them feel as good as expensive designer items. I have always only ever wanted to wear things which you just can't get on the high street, and I think my designs reflect that. I also hope that makes them more exciting for intermediate to experienced sewers who want to make higher end quality pieces.
PDF patterns have blown up in popularity and I really love the freedom that working solely on the internet gives me as a designer. Every component of a Pier&Palace pattern is produced by me, and the flexibility of PDF allows me to create something inspiring and offer more than you could feasibly get in a paper pattern package. Part of our patterns includes an inspirational magazine to help to kick you off with ideas of how you can make the pattern something really special and unique, and being PDF gives me the ability to give my customers additional items like that.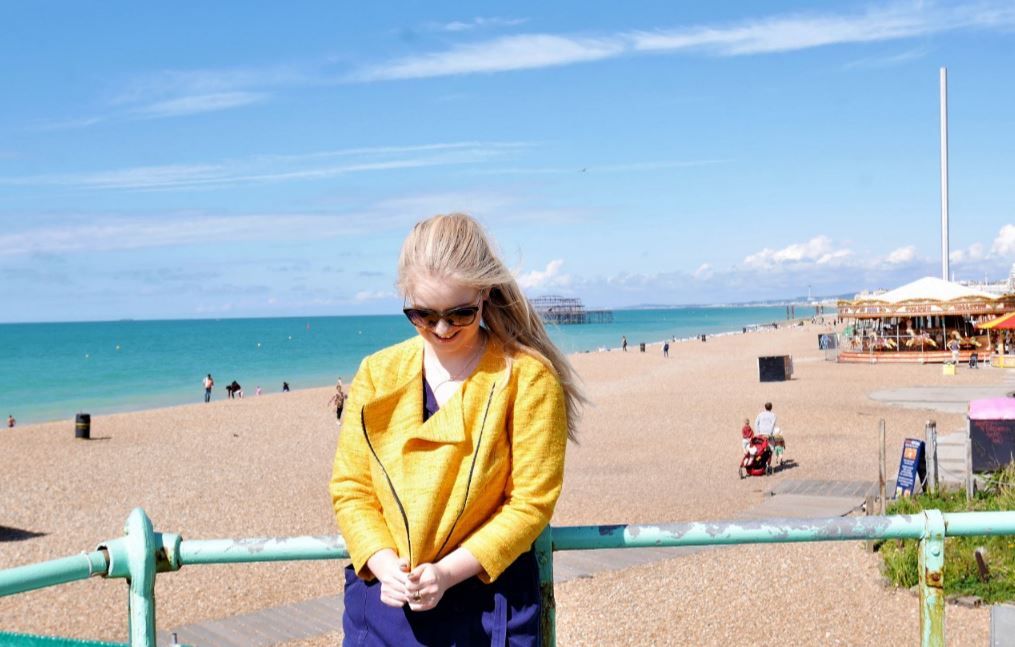 My first Pier&Palace design, the Kemptown Jacket
I chose a pretty serious jacket as my first pattern because I love how they change the tone of an outfit so effortlessly. The modern biker style of Kemptown mixed with the demi-couture style finish is a great wardrobe staple which you can wear again and again. I always want to encourage my makers to be bold and make personal choices - and they haven't disappointed! I've already seen everything from a full black sequin version, to mixed panels upcycling vintage floral fabric.
I think there's an opening for Indie pattern designers to help sewists take the next step in progressing their skill set. I also think it's important to state that Kemptown isn't advanced as it may look, the biggest difference to simpler makes is that it's more of a project that uses several different skills in combination, to produce a more complex piece, rather than being consistently difficult. Think of it as a "skills builder" - and to that end, the pattern comes with a Skills School instructional breakdown to explain these techniques independently of the pattern. The great thing is that anyone can then take those skills, such as the Hong Kong finish, and use it elsewhere on other patterns. In addition, I communicate with my customers daily on Instagram (@pierandpalacepatterns), so if you get really stuck, help is only a comment or DM away!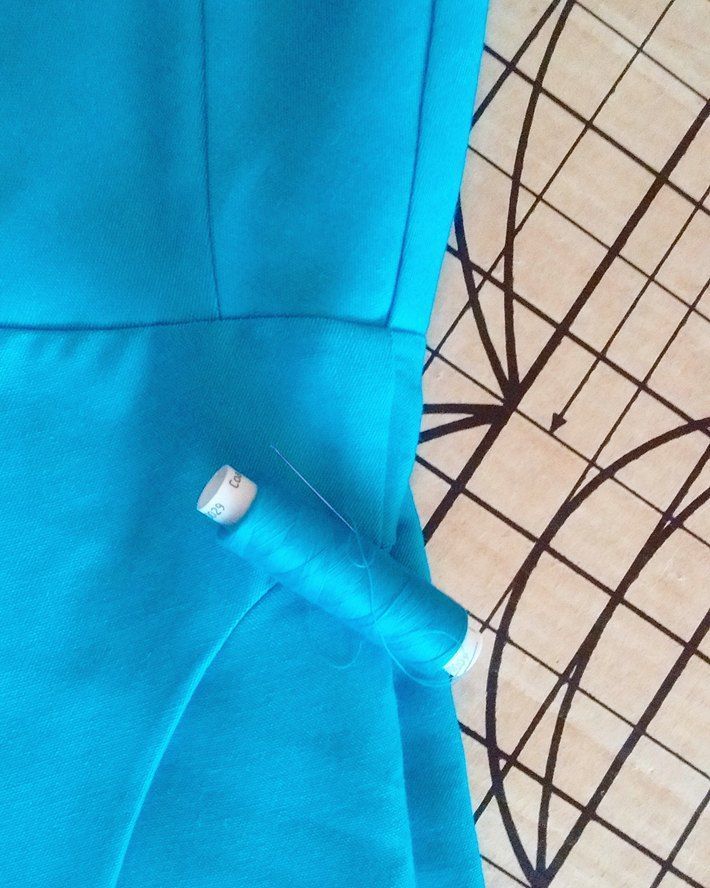 Here's a sneak peek of a future pattern!
The next few pieces for Pier&Palace I've chosen are what I consider to be wardrobe cornerstones, they are all timeless pieces you can dress up or down and mix and match. I'm aiming to show a range of different types of skills, using different fabrics (hopefully to help everyone stash bust those beautiful pieces they've been waiting for the perfect pattern for!).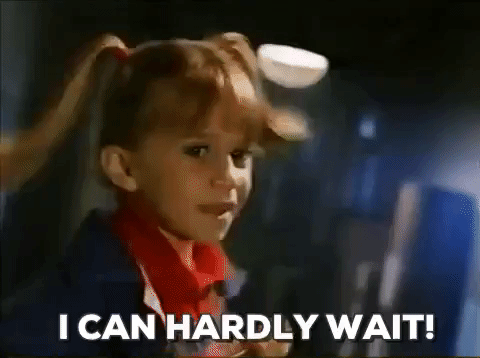 Can't wait to try out Karen's Kemptown for yourself? Use code SEWMAG at the checkout for 10% off!
The code is valid from 10th November to 13th December on the Kemptown jacket PDF pattern only. Not to be used in conjunction with any other offer.