30 Mar
2017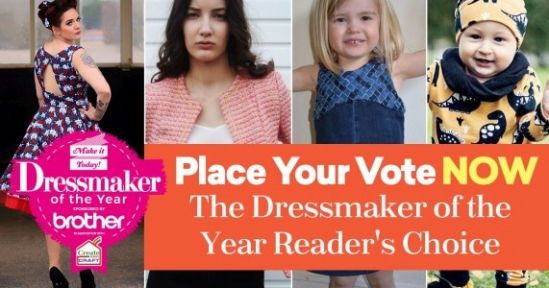 The Dressmaker of the Year competition, launched by Sew and our sister title Make It Today Dressmaker, has received a huge number of fabulous entries, showing just how talented our readership is! There were four categories including Ready To Wear, Vintage, Kids' Wear and Customising, and the quality of the handmade garments entered for each has been truly inspiring.
The competition has now closed but it's not over yet. Our panel of judges, including Sewing Bee's Stuart Hillard, Kate Underdown and Rachel Walker from online sewing community thefoldline.com, plus Make It Today Dressmaker editor Sarah Crosland and Sew editor Jennifer Ward, are now deliberating over the entries and examining everyone's handiwork.
In addition, we want YOU to have your say in the Dressmaker of the Year Reader's Choice category. Simply go to makeittoday.co.uk/dressmakeroftheyear and choose your favourites from the shortlist of garments in the four different categories before 25th April 2017. It will only take a few minutes to fill in the online form and best of all, you'll be automatically entered into a prize draw, with the chance to win a bundle worth over £230, including 11 fantastic sewing books and a subscription to Sew or Make It Today Dressmaker magazine. Don't miss out – place your vote now!

Sewing Week 2020: To Our Retailers
15 Sep 2020
Dear retailers,

The Sew HQ team fully appreciates the challenging trading conditions created by this year's COVID-19 pandemic, particularly for…



Sewing Week 2020: To Our Retailers
15 Sep 2020
Dear retailers,

The Sew HQ team fully appreciates the challenging trading conditions created by this year's COVID-19 pandemic, particularly for…