5 Aug
2015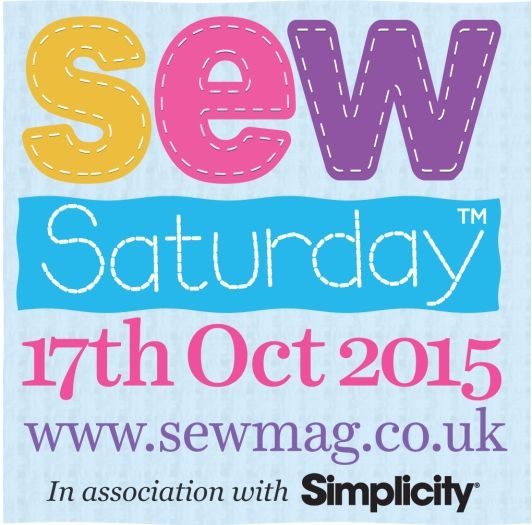 Sew Saturday takes place on October 17th and we couldn't be more excited! Has your favourite fabric store or haberdashery signed up yet? Read on to find out!
Ambassadors
If you're lucky, your local fabric shop could be visited by one of our Sew Saturday ambassadors, or even a stitchy celebrity! We're thrilled to have some incredible names from the sewing world getting involved, including May Martin, Heather Jacks, Lauren Guthrie and Stuart Hillard!
We've already had over 100 sign ups for Sew Saturday, so there's sure to be a store near you involved.Check out the list!
A
ABAKHAN, 8-12 Greenway Road, Tranmere, Birkenhead, Chesire CH41 0NG
ABAKHAN, 55 Old Hall Street Hanley, Stoke On Trent, Staffordshire ST1 2AT
ABAKHAN, 65 Frodsham Street, Chester CH1 3JJ
ABAKHAN, 34-44 Stafford Street, Liverpool L3 8LX
ABAKHAN, 111-115 Oldham Street, Manchester M4 1LN
ABAKHAN, Unit 3B Corporation Street, Preston PR1 2UQ
ABAKHAN, Unit 2B Bunden Park, Manchester Road, Bolton BL3 2NE
ABAKHAN, FABRIC HOBBY & HOME Coast Road, Mostyn, Flintshire CH8 9DX
ABIGAILS DRAPERY, 19 High Street, Lewes, East Sussex BN7 2LN
ALL FABRICS, 61 Grosvenor Stree,t Stalybridge, Chesire SK15 2JN
AND SEW FORTH, 87a Bridgate, Howden, East Yorkshire DN14 7JG

B
BACKSTITCH, Burwash Manor, New Road, Barton Cambridge, Cambridgeshire CB23 7EY
BADGER & EARL LONDON, 14a Sutton Court Road,Chiswick, London W4 4NG
BECKFORD SILK, Beckford Near Tewkesbury, Gloucestershire GL20 7AU
BEE CRAFTY LTD, Suite 5 The Granary, Brook Farm, Thrapston Road, Ellington Cambridgeshire PE280AE
BELLE FABRICS, 6-12 Elm Road, Leigh on Sea, Essex SS9 1SN
BIGGAR STITCHES, 3 Clydesdale Close, Biggar, South Lanarkshire ML126GH
BIRDCAGE BARN GIFTS AND CRAFTS EMPORIUM, Leigh Road, Chichester, West Sussex PO19 8TT
BLACK SHEEP WOOLS, The Warehouse Studios, Glaziers Lane, Warrington, Chesire WA3 4AQ
BOBB – IN AND SEW, HUNTINGDON, The Heath, Woodhurst, Huntingdon, Cambridgeshire PE28 3BT
BOUDLO FABRIC, Ruette Braye, St Peters Port, Guernsey GY1 1PL
BOUTIQUE HABERDASHERY, THE, 162b West Street, Fareham, Hampshire PO16 0EH
BUTTERFLY FABRICS, 79-81 City Road, Cardiff CF24 3BL
C
C&H FABRIC, 21/23 Church Road, Tunbridge Wells, Kent
CCB SEWING LIMITED, 304-306 High Street, St Margaret's Banks, Rochester, Kent ME1 1HS
CAFFLE CRAFTS, Bristol Road, Hewish, Weston Super Mare, Somerset BS24 6SE
CALICO KATE, 36 High Street Lampeter, Pembrokshire SA48 7BB
CAMELOT CRAFTS, Bransby House, Eaudyke, Friskney, Peterborough PE22 8NL
CLOTH SHOP, THE Unit 23 Sundial House, Common Lane, Warrington, Chesire WA3 4EH
CLOTHKITS, 16 The Hornet, Chichester West Sussex PO19 7JG
COAST AND COUNTRY CRAFTS & QUILTS, Cornish Garden Nurseries,Barras Moor Farm, Perranarworthal Truro, Cornwall, TR3 7PE
CORNER PATCH, THE 12 High Street, Eccleshall, Staffordshire ST21 6BZ
COTTON MOON FABRICS AND HABERDASHERY, 9 East Street, Blandford Forum, Dorset DT11 7DU
COTTON TAIL CRAFTS, 16 Duke Street, Settle North, Yorkshire BD24 9DN
COTSWOLD NEEDLECRAFT, Evesham County Park, Evesham, Worcester WR11 4TP
COWSLIP WORKSHOPS, Newhouse Farm, Launceston, Cornwall PL15 8JX
CRAFTY BABA,32 St Peters Street, Ipswich, Suffolk IP1 1XB
CRAFTY BETTY, 10a The Arcade, Newark on Trent, Nottinghamshire NG24 1UD
CRAFTY SEW AND SO, Unit 32, 13 St Martins Square, Leicester, Leicestershire LE1 5DF
D
D&S SEWING MACHINES, 175 Queen Street, Newton Abbott, Devon TQ12 2BS
DIRECT SEWING MACHINE SUPPLY CO, 46 Sandy Park Road Brislington Bristol AVON BS4 3PF
DITTO FABRICS, 21 Kensington Gardens Brighton EAST SUSSEX BN14 4AL
DOLLYS HABERDASHERY, The School House, Academy Place, Warrington, Cheshire WA1 2NR
DRAGONFLY FABRICS, 1 South Villas. East Street, Mayfield. East Sussex TN206TX
E
EDINBURGH FABRICS, 12-14 St Patrick Square, Edinburgh EH89EZ
ELIZABETH ROSE, 3 Loughlan Road, Armagh BT61 8RF
F
FABRICS & THREADS, Unit 89 The Market, Scotch Street, Carlisle, Cumbria CA3 8QX
FABRICATIONS, 7 Broadway Market, Hackney, London E8 4PH
FABRIC CORNER AND LOVE HANDMADE HABERDASHERY, 24 Melville Street, Lincoln, Lincolnshire LN5 7HW
FABRIC SHOP, THE. The Show Rooms, 55 Chapel Road, Worthing, West Sussex BN11 1EF
FABRIC SHOP. THE, 36 The Martlets, Burgess Hill, West Sussex RH15 9NN
FABRIC SHOP, THE, 1a Church Street, Eye, Suffolk IP23 7BB
FAFF ROOM, Burnaby House Church Street, Mansfield Woodhouse, Nottingham NG19 8AH
FABRIC TIME, Unit 16, Shepperton Bs Pk, Govett Avenue, Sheppeton TW178BA
FABRIC WAREHOUSE, THE, Tomo Est Packet Boat Lane, Uxbridge, Middlesex UB82JP
FOBBLES, Gubbergill Irton, Holmrook, Cumbira CA19 1YQ
FORBES FABRICS, Unit 67 Aberdeen Market, 8-10 Market Street Aberdeen AB11 5NX
FRANKLINS GROUP, 13-15 St Botolphs Street, Colchester, Essex CO2 7DU
FRANKLINS GROUP LTD, 3 Saint Matthews Street, Ipswich Suffolk
FRANKLINS GROUP LTD, 201 Moulsham Street, Chelmsford, Essex CM2 0LG
FRANKLINS GROUP LTD, 48 Fisherton Street, Salisbury, Wiltshire SP2 7RB
FREDS HABERDASHERY, 8 The Hall, Market Street, Chesterfield, Derbyshire S40 1AR
FROM RAGS TO STITCHES, 6 St Mary's Court, Tickhill, Doncaster DN11 9LX
G
GOLDSTITCH SEW CAFE, Mowbray House, Tanhills, Nettlesworth, Durham DH23PY
GILLY BEE DESIGNS, 27 Morris Drive, Little Plumstead, Norwich, Norfolk NR13 5FD
GUTHRIE AND GHANI, 169 Alcester Road, Birmingham, West Midlands B13 8JR
H
HARRY &FLOSS, 4 Market Place Alcester, Warwickshire B49 5AE
HOBKIRKS SEWING MACHINES LTD, 120-128 Darwen Street, Blackburn, Lancashire BB2 2AJ
HULU, Sentinel House, Pondwell, Modbury, Devon PL21 0XX
I
I SEW 2, 117 Townhead Kirkintilloch Glasgow Lanarkashire G66 1NX
INCHES FABRIC, 39 Parsonage Street, Dursley, Gloucestershire GL11 4BP
INKBERROW DESIGN CENTRE & FABRICOLOGY, Cedar House, Britten Street, Enfield, Redditch, Worcestershire B97 6HD
J
JAYLAURS, 54 Wrawby Street, Brigg, Lincolnshire
JOHNSON'S OF BOND STREET, 29-31 Bond Street, South Shore, Blackpool, Lancashire FY4 1BQ
JUST SEW, Poets Walk, Penrith, Cumbria CA11 7HJ
K
KATHYS PATCH, Unit 62 Folkestone Enterprise Centre, Shearway Business Park, Shearway Roadd, Folkestone, Kent CT19 4RH
KNIT WITS AND FABRICS, 28a High Street, Dereham, Norfolk NR19 1DR
L
LADY SEW AND SEW, Moy House, 57 Institue Road, Marlow, Buckinghamshire SL7 1BN
LEICESTERSHIRE CRAFT CENTRE, 10 a High Street, Market Harborough, Leicestershire LE16 7NJ
LET'S LEARN, 13 Grand Arcade, London N12 0EH
LITTLE FABRIC STORE, THE 12 New Street, Louth, Lincolnshire LN11 9PU
LIZZY ANNE FABRIC AND WOOL SHOP, 2 Paxtons Court, Newark, Nottingham NG24 1DH
LONDON FABRIC SHOP, THE, 141a Bethnal Green Road, London E2 7DG
LORNA KNIGHT SEWING ACADEMY, THE, Ox haye Farm Barn, Ashbourne Road, Bradnop, Leek Staffordshire ST13 7NX
M
M & G DESIGNS, 14 Eastgate, Louth, Lincolnshire LN11 9NE
MAKE DO & MEND, 94-96 Byron Road, Chelmsford, Essex CM26HJ
MANDOR TEXTILE CENTRE LTD, Fleming House 134, Renfrew Street, Glasgow Lanarkshire G3 6ST
MARIA BRESLIN SEWING COURSES, 2 Chestnut Drive, Shenstone, Walsall WS14 0JH
MATERIAL NEEDS, 79 High Street Burnham on Sea Somerset TA8 1PE
MICHAEL TRACY FABRICS, Waterhouse Business Centre, 2 Cromer Way, Chelmsford, Essex CM1 2QE
MILLIE MOON HABERDASHERY BOUTIQUE, 24-25 Catherine Hill, Frome, Somerset BA11 1BY
MISS MILLICENT, 35 Eastgate Street, Staffordshire ST162LZ
MKC SERVICES, Unit 8 30-38 Dock Street, Leeds, West Yorkshire LS101JF
MORE SEWING, 88 South Street Tarring, Worthing, West Sussex BN14 7NB
MRS SEW N SEW, 57A Haines Road, Far Cotton, Northampton NN4 8DS
MY MAKE AND DO, 83 Sandy Park Road, Brislington, Bristol BS4 3PG
MY SEWING BASKET, 2 Queensway Parade, Dunstable, Bedfordshire LU5 4DW
MYLA FABRIC & SEWING SUPPLIES, 41 High Street, Crediton, Devon EX17 3JP
N
NATURES THREADS, The Kilnworkshops, Pilcot Road, Crockham Village, Fleet, Hampshire GU51 5RY
NEEDLE CRAFT, 142 Cotterells, Hemel Hempstead, Hertfordshire HP1 1JQ
NEST, 102 Weston Park, Crouch End, London N8 9PP
NEW FOREST FABRICS, 14 Shamrock Way, Hythe, Marina Southampton SO45 6DY
NEW THREADS QUILT SHOP, Studios 10 & 14 Craft Design Centre, Weyhill, Andover Hants SP11 0QN
NIMBLE THIMBLE, THE, 1d Well Street, Buckingham, Buckinghamshire MK18 1EW
NORTHGATE NEEDLECRAFT, 158 Northgate Street, Great Yarmouth, Norfolk NR301BY
NOTIONBERRY, 10 High Street, Toddington, Bedfordshire LU5 6BY
O
OH SEW CRAFTY, 68 Berry Lane, Preston, Lancashire PR3 3WH
P
PAINTERS ART AND CRAFT SHOP, 7 Fore Street, Liskeard, Cornwall PL14 3JA
PATCHES AND BUTTONS, 25 Moor Lane, Clitheroe, Lancashire BB7 1BE
PATCHWORK DOG & BASKET, THE, 2 Mount Place, Lewes, East Sussex BN7 1YH
PATCHWORK PARADE Q, House Russel Street, Chadderton, Oldham OL9 9LF
PEMBERTONS SEWING MACHINES, 21/25 Friars Street Stirling Central FK8 1HA
PHIL MORTON SEWING MACHINES, 84 – 86 Mill Lane Macclesfield, Chesire SK11 7NR
PIPPINS PATCHWORK AND CRAFTS, 50-56 High Street, Market Deeping, Peterborough PE6 8EB
POPPY PATCHWORK, 71 Westbury Hill, Westbury-on-Trym, Brsitol, BS9 3AD
PURELY PATCHWORK, 23 High Street, Linlithgow, West Lothian EH49 7AB
PURPLE PIXIE FABRIC & CRAFT, The Hop Farm, Maidstone Road, Paddock Wood, Kent TN12 6PY
Q
QUILTERS HAVEN, 68 High Street, Wickham Market, Suffolk IP13 0QU
QUILTERS TRADING POST, Buerton Primary School, Woore Road, Buerton, Chesire CW3 0DD
R
RAINHAM SEWING CENTRE, 12 Station Road, Rainham, Gillingham, Kent ME8 7PH
REMNANT KINGS, 585 Laumoor Street, Dixon Blazes Industrial Estate, Glasgow, Lanarkshire G5 0TT
ROMY'S SEWING ROOMS, 180 Irish Street, Dumfries, Dumfries & Galloway DG1 2NJ
ROSE N TONYS, 26 King Street, Sandwich, Kent CT139BT
ROUGE FABRICS, 84 Penny Meadow, Ashton Under Lyne, Greater Manchester OL6 6EP
S
SASSY SEWING, 8 Market Place, Horncastle, Lincolnshire LN9 5HB
SEW & FABRIC LTD, 43 Fore Street, St Austell, Cornwall PL25 5PY
SEW BUSY, Unit B Branksome Chambers, Branksomewood Road, Fleet, Hampshire GU51 4JS
SEW CANNY, Unit 4, Rear or Old Coop Building, Ena Street, Widdrington Station, Morpeth, Northumberland ME61 5NF
SEW CONTEMPORARY, 30-40A Hockerill Street, Bishops Stortford, Hertfordshire CM23 2DW
SEW CREATIVE, 20-22 Lavant Street Petersfield, Hampshire GU32 3EW
SEW FAB, 5 Unicorn Hill, Town Centre, Redditch, Worcestershire B97 4QR
SEW FABRIC, 93-95 Norwich Road Industrial Estate, Lowestoft, Norfolk NR32 2BN
SEW FRIENDLY, Crown Walk 8 West Street, Bourne, Lincolnshire PE10 9NE
SEW HAPPY, 145 Gainsboprough Crescent, Birmingham, Warwickshire B43 7TX
SEW LA DI DA VINTAGE, Town Mill Mill Lane, Lyme Regis, Dorset DT7 3PU
SEW LOVELY, 102 Glebe Street, Penarth, Glamorgan CF64 1HP
SEW ME HOW, Barn Unit 4 The Plassey, Craft & Retail Park, Eyeton, Wrexham LL130SP
SEW ME SOMETHING, 3 The Minories, Stratford Upon Avon, Warwickshire CV37 6NE
SEW MUCH FUN, 46 Chalcot Road, London NW18LS
SEW SOMETHING, 7 High Street, Storrington, West Sussex RH20 4DR
SEWING & CRAFT SUPERSTORE, 292-312 Balham High Road, London SW17 7 AA
SEWING & KNITTING CENTRE, 67 London Street, Southport, Merseyside PR9 0TH
SEWING BOX, THE, 140 High Street, West Glossop, Derbyshire SK136NE
SEWING CAFE, THE 116 Castle Street, Hinckley, Leicestershire LE10 1DD
SEWING ROOM, THE, Highland House, Unit 7a, 20 Longman Road, Inverness Inverness IV1 1RY
SEWING SPACE, THE 86 Hythe High Street, Hythe, Kent CT21 5AJ
SEWING STUDIO, 27 Charles Street, Bath, Somerset BA1 1HY
SEWING WORKSHOPS, 2 May Cottages, Alsager Road Hassall Sandbach, Cheshire CW11 4SD
SHOP ON THE BRIDGE, Town Foot, Hawes, North Yorkshire DL8 3NL
SOMERSET SEWING MACHINES, Unit D Cartwright Mills, Business Centre, Brue Avenue, Colley Lane, Bridgwater, Somerset, TA6 5LT
STITCH & STEEL, 13 Ludlow Avenue, Berkeley-Beverborne, Worcestershire WR4 0EN
STITCHCRAFT CENTRE, 39-40 High Street, Burton on Trent, Staffordshire DE14 1JW
STITCH X STITCH, 24 Bury Street, Stowmarket, Suffolk IP14 1HH
SEW UNIQUE, 79 High Street, Bangor, County Down BT20 5BD
STITCHED UP 157b Wilbraham Road, Chorlton, Manchester M21 0UF
STITCHES 4 U, 8 High Street, Warminster, Wiltshire BA129AE
STITCHES HABERDASHERY, 16 Upper Mulgrave Road, Cheam, Surrey SM2 7AZ
T
TEMPTATIONS CRAFT BOUTIQUE, 31 Main Street, Bentham, Lancaster LA2 7HQ
THINK OUTSIDE THE BOX, 10 Chinns Court, Market Place, Warminster, Wiltshire BA12 9AN
TUDOR ROSE, Unit 1, Oakley Park Station Road, Oakley, Bedford, Bedfordshire MK43 7RB
TULIPTREE DESIGNS, Groveland Farm Shop, Thorpe Market Road, Roughton, Norwich, Norfolk NR11 8TB

W
WEST WILTS SEWING CENTRE CO, 55 Castle Street, Trowbridge, Bath
WITNEY SEWING MACHINE CENTRE, 61 High Street, Witney, Oxfordshire OX28 6JA
Z
ZEBEDEE FABRICS, 120 – 124 Seabourne Road, Bournemouth, Dorset BH5 2HY
If you can't see your favourtie store listed here, why not ask them to get involved? If you run your own fabric store or haberdashery and want to take part, email saturday@sewmag.co.uk