17 Nov
2014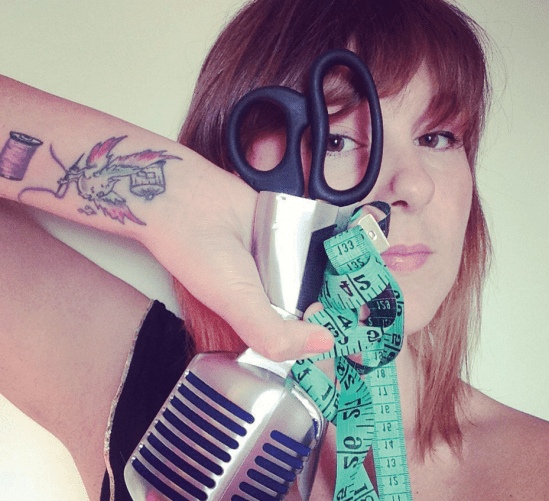 "Sewing gives me the freedom to create exactly what I'm looking for"
My addiction to sewing first began when I decided to make my own wedding dress. I had only made small hand-sewn things before, so most people thought I was crazy taking on such an important garment as my first real make. With the excitement of the wedding over, my love of sewing had just begun.
I couldn't stop. This was when the first series of the Sewing Bee was on television. My husband suggested that I should apply for the programme, which I said was a stupid idea. Little did I know he had already applied on my behalf!
For the next few months, I was completely overwhelmed. Not only did I get through the long audition process, but I made it onto the show! I was petrified, but the other contestants and Claudia really calmed my nerves. They were all so lovely, I felt like I was part of a team rather than in a competition.
Strangely, I wasn't thrown by the cameras at all. I think singing in a band helped prepare me for that part, although I would occasionally be distracted by Patrick's off-camera cheekiness and May's slippers, which always made me chuckle! Patrick and May are amazing; even though they may appear harsh sometimes, they really do offer great advice.
For me, the double-edged sword was the feedback. I learned so much from May and Patrick's comments, and I wanted to absorb everything they said. The problem was that I was already self-critiquing and doubting my abilities, so sometimes it was difficult to hold it together when the feedback wasn't good. To anyone applying for the Sewing Bee, I would suggest you prepare for the emotion. Be ready for tears and frustration – it is as hard as it looks.
"My aim is to get people sewing and not to be afraid of showing it off"
Since the show, my confidence has grown. The feedback has been amazing, and this has spurred me on to start my #sewingrevolution! My aim is to get people sewing and not to be afraid of showing it off. The revolution includes running upcycling workshops, blogging and encouraging people to share their makes. So don't forget to use the hashtag! My workshops are mainly focused around upcycling. I think it's the perfect way to introduce a beginner to sewing, as you are creating with something you already have. I want to show that stitching isn't scary. It's great when I have experienced sewers turn up as well, looking for something a little different to the normal workshops.
Having different skill levels and projects happening at the same time just adds to the excitement and learning for both me and the attendees. My main influence has to be vintage! This is how I really became addicted to sewing. I love charity and vintage shops for their clothes and homewares – I think my husband and I were born in the wrong era. Our music, personal style and home are completely retro-influenced, but it's difficult when you can't always find what you're envisioning in the shops. Sewing gives me the freedom to create exactly what I'm looking for. We don't buy clothes any more, I just create them in my sewing room – when I'm not starting revolutions that is.
Join the #sewingrevolution at www.jenniffertaylor.co.uk