14 Jun
2016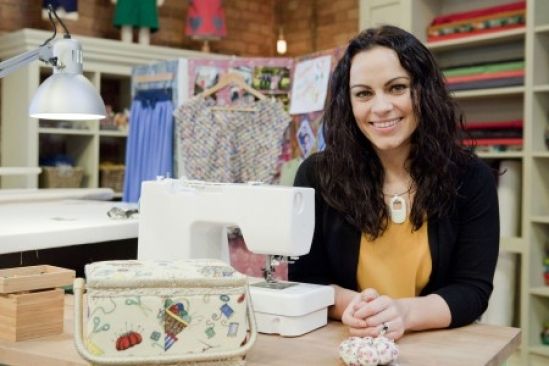 Series one contestant Stuart Hillard travels back in time with the GBSB contestants for Sixties Week!
"With all of the male contestants gone, it was ladies only for Sewing Bee's fifth week, which harked back to the Swinging Sixties. For the Pattern Challenge, the contestants were instructed to make a shift dress; sounds simple but of course it wouldn't be the Sewing Bee if it were that easy!
"This particular design was a colour block Mondrian-style dress, made up of bright panels separated by narrower black bands. These had to be colour balanced and measured precisely – oh, and did I mention that for this challenge, the contestants had been given vintage Singer sewing machines from the sixties?
"It wasn't long before people began having trouble with their machines, discovering how fiddly they were to thread, while struggling to get them up to speed or even started! Joyce was the exception, fondly reminiscing about making outfits on her Singer as a teenager while swooning over Elvis and Marty Wilde. Angeline came a cropper when she accidentally mirrored the front of her dress, with no time to go back and start again.
"In the end, all six managed to finish their dresses on schedule, though many were wrong-footed by details such as the lapped zip, having to take it out and start again. Patrick and Esme didn't pull their punches this week, even going so far as to measure the colour blocks with a yard stick to ensure the proportions were all correct. Tracey came last, having had trouble with her zip, plus making the mistake of not matching her thread to her panels. Joyce, on the other hand, had promised to be good this week and stuck to her pattern religiously, which earned her first place.
"The pressure didn't let up in the Alteration Challenge, with the contestants being asked to transform a PVC raincoat. I suspect this challenge was set by Esme, who revealed that some of her earliest garments were made from shower curtains. At least the contestants got their modern-day machines back for this one! Inspired by Esme, Rumana turned a scarlet mac into a daring, off-the-shoulder number, which earned her praise from the judges. Tracey entered in the spirit of the sixties by creating a shift dress from a white spotty raincoat, complete with circular red patch pockets, while Joyce came first again with a 'nerdy sailor' smock-style top in bright pink with black trim and buttons. Angeline's Barbarella-style black dress came last, due to an open front that was a wardrobe malfunction waiting to happen.
"For the Made to Measure Challenge, the contestants' tailoring skills were tested by creating a jacket using a vintage sixties pattern. Angeline decided to go psychedelic with an orange and paisley coat, but lost her nerve slightly and decided to leave off her planned orange and yellow fur trim after Rod Hull's Emu comparisons from Patrick. Tracey didn't take the easy route by choosing a cardigan jacket pattern with grown on sleeves. Jade went for a less complex cropped style and took her time to ensure everything was just perfect, right down to pattern matching her tweed fabric exactly.
"All too soon, the moment of truth arrived, with some impressive looking jackets. The judges were impressed by Tracey's sleeves which had turned out well after a lot of frantic pressing. Joyce's pea coat had a distinctly nautical feel and was well made, although Patrick felt it was more '80s than '60s in style. Rumana's coat lost points due to an uneven coat hem and her buttons not lining up, while Angeline's bold design suffered from a lack of interfacing and an uneven hem due to the lining being too short.
"Jade's attention to detail paid off, with a beautiful, '60s-style boxy jacket that was spot-on in every way, earning her the well-deserved Garment of the Week. Sadly, we had to bid farewell to Angeline; it just goes to show that it only takes one bad week to trip you up, and that when it comes to predicting the ultimate winner of the Sewing Bee, nothing is certain – right up to the very end!"
Check back next week for Stuart's report on episode six, Active Wear Week!
Love the show? Subscribe to Sew and receive a FREE copy of the new accompanying book, The Great British Sewing Bee: From Stitch To Style PLUS two metres of fabric!

Sewing Week 2020: To Our Retailers
15 Sep 2020
Dear retailers,

The Sew HQ team fully appreciates the challenging trading conditions created by this year's COVID-19 pandemic, particularly for…



Sewing Week 2020: To Our Retailers
15 Sep 2020
Dear retailers,

The Sew HQ team fully appreciates the challenging trading conditions created by this year's COVID-19 pandemic, particularly for…