7 Jun
2016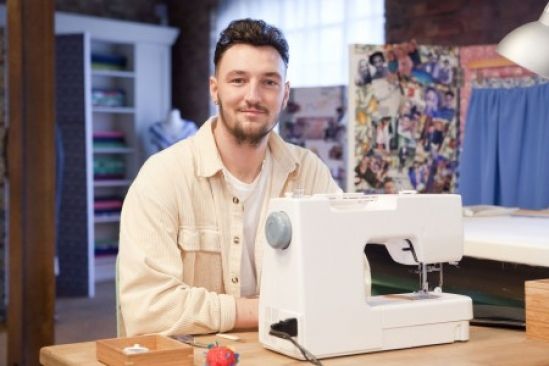 Series one contestant Stuart Hillard watches GBSB go global for International Week!
"So, we have reached the halfway mark on The Great British Sewing Bee and the remaining seven sewers tackled garments from all corners of the world. It was International Week in the sewing room and each challenge concentrated on a different country or culture.
"The first task was to make a Chinese silk brocade top with a mandarin collar and frogged closure. Chinese brocade is notoriously difficult to work with, being slippery, easy to stretch and difficult to mark. The Pattern Challenge always contains some tricky parts, designed to trip up all but the most skilful and this was no exception. Bindings were attached to the wrong sides of the garments and invisible zips have never been so hard to insert. There still appears to be lots of cooperation between the sewers and they continue to offer up words of wisdom to each other. However, this surely cannot continue for much longer… it is a competition and pretty soon the sewers will have to go it alone.
"Charlotte stretched her neckline and ended up in tears, Angeline's top lacked finesse and Joyce infuriated the judges with her roguish ways. Rumana's top was vaguely obscene but it didn't really matter in the end. Tracey's creation was pretty much there and even picky Patrick found it hard to criticise. Josh was slow and steady with his first really good sew which gained him second place. Joyce came last and Tracey was first; she is clearly the grower.
"The Alteration Challenge involved taking a sari and creating an 'Eastern inspired' outfit. I was praying that the contestants wouldn't go all clichéd and instead create something chic and modern, but my prayers went unanswered and the alterations were all a bit 'fancy dress' for my liking. Tracey again made the best effort, while Joyce and Jade were pretty close to the bottom; in particular, Jade's trousers had a weird lumpy insert in the side. I wasn't a fan of Charlotte's trousers, although Patrick seemed to like them. Not convinced about that Patrick, just saying. Joyce was definitely in trouble and Tracey got a double first. Tracey, please don't peak too soon like Jamie did!
"For the final challenge, the sewers were required to make a West African wax print dress complete with tight fitting bodices, flared peplums and a traditional hourglass shape. The fabrics were stiff and the prints were huge, making pattern matching an absolute nightmare. Charlotte threw in a ruffle and Rumana went all superhero with a cape over her fitted dress. On paper the dresses looked fabulous, but who would pull it off and who would fall at the final hurdle?
"Tracey's dress was baggy, Angeline's dress had wow factor (and a collapsed back apparently) and Charlotte's dress was gaping, bulky and the zip wasn't great. I was very disappointed with her sewing this week, but her place in the sewing room seems secure. Jade's dress was lovely with a gorgeous peplum, but I thought it was just a bit too low and short for a West African-inspired dress. Josh's dress had a few lumps where they shouldn't be but I really didn't think it was that bad. I was holding my breath as Joyce's model walked down the runway. Hurrah! It was enough to get her out of the danger zone and it was Josh and Jade who were most in danger on the second day. Should they have been in the bottom two? Personally I think not.
"Garment of the week went to naughty Joyce and it was Josh who was sent home. I really liked him, I thought he was a much more experimental and boundary pushing sewer than most of the others. Take my advice Josh, apply for Project Runway and show them what you're made of!"
Check back next week for Stuart's take on episode five, Sixties Week!
Love the show? Subscribe to Sew and receive a FREE copy of the new accompanying book, The Great British Sewing Bee: From Stitch To Style!

Sewing Week 2020: To Our Retailers
15 Sep 2020
Dear retailers,

The Sew HQ team fully appreciates the challenging trading conditions created by this year's COVID-19 pandemic, particularly for…



Sewing Week 2020: To Our Retailers
15 Sep 2020
Dear retailers,

The Sew HQ team fully appreciates the challenging trading conditions created by this year's COVID-19 pandemic, particularly for…