24 May
2016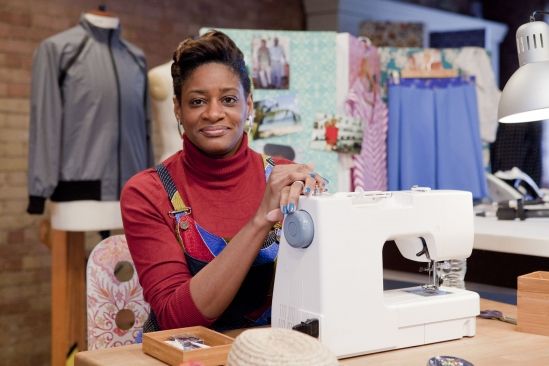 Series one contestant Stuart Hillard gives his verdict on GBSB's Children's Week!
"Small and perfectly formed, episode two was Children's Week and anyone who thinks that little means easier has got a harsh lesson to learn in the sewing room. The first task was a babygrow in stretchy fabric, ideally a stretch cotton jersey. I was happy within the first five minutes as both Esme and Patrick said 'gusset'... don't you just love that word?
"I think this was a super hard task for week two as there are a lot of skills required in a babygrow and frankly even seasoned sewers would be tempted to high tail it to Mothercare and flash the plastic. As Claudia pointed out, they end up covered in all kinds of nastiness. 'Nuff said. My teeth were on edge throughout the first task for one other reason; will the sewers PLEASE stop using their rotary cutters freehand? We've got to series four without blood being spilt on the Bee, but this could be the season!
"Josh felt in his comfort zone and experience has taught me that the production company only really cut those sort of comments in when someone is about to seriously muck things up. I never realised what danger lay in attaching a gusset; apparently the risk of kinks is a very real one and Josh almost sewed a gulley. I shall be a lot more careful in future. Jamie went rogue and attached his binding in his own sweet way, while Charlotte's version was gorgeous and even stood up to Esme having a go at her gusset. Ghislaine looked most in danger as pretty much everything that could go wrong did, and unsurprisingly she was down at the bottom. Charlotte took the top spot… well done!
"The Alteration Challenge came next and after last week's disappointment, the sewers really needed to up the ante! Esme wanted imaginative and creative in 90 minutes, not a second more. So, bridesmaids' dresses were to be turned into a child's outfit. Jade made a bridesmaid dress out of her, erm, bridesmaid dress and Charlotte went all pouffy. Ghislaine came out fighting with her boxing-inspired sportswear and Tracey connected with her inner forest fairy. Josh made a bomber for a baby and came last for his efforts, while Ghislaine's orange beauty really brought her back from the brink, coming first. Hurrah! I'm fascinated by the new dynamics between the judges. It's only week two and it's pretty easy to see who the boss is!
"Day two and there were 'actual' children… eek! The sewers had just a few hours to make woollen capes and although this seemed like a straightforward task, the simpler garments needed to be perfect if they were going to impress. Ghislaine's scallops were not deep enough and lord knows lots of us have been there. Her cutting was bad and her sewing wasn't improving matters. Things were looking pretty bleak.
"Joyce's cape looked the most adventurous although she admitted that appliqué wasn't her forte. Good luck with that then, Joyce! Jamie also upped his game with a cape that Sherlock Holmes would have been proud to wear. Jade explained how to turn all your insides outside or something like that and Charlotte sewed her collar on upside down, except she didn't. Phew!
"Jamie's cape was my favourite and if he reads this, I would actually love an adult version, thank you very much. Angeline's Red Riding Hood number was enough to see off the big bad wolves and she won Garment of the Week. Sadly, we had to say goodbye to Ghislaine for whom this fairytale had no happy ending."
Check back next week for Stuart's report on episode three!
Love the show? Subscribe to Sew and receive a FREE copy of the new accompanying book, The Great British Sewing Bee: From Stitch To Style!

Sewing Week 2020: To Our Retailers
15 Sep 2020
Dear retailers,

The Sew HQ team fully appreciates the challenging trading conditions created by this year's COVID-19 pandemic, particularly for…



Sewing Week 2020: To Our Retailers
15 Sep 2020
Dear retailers,

The Sew HQ team fully appreciates the challenging trading conditions created by this year's COVID-19 pandemic, particularly for…