29 Nov
2017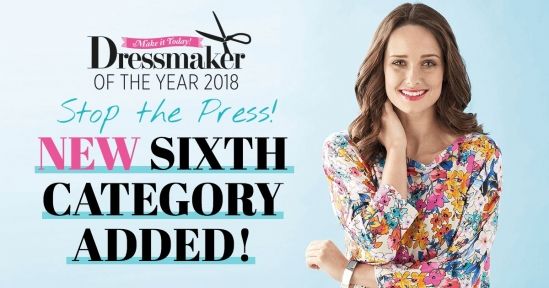 Following the launch of the second Dressmaker of the Year competition for 2018, held by Sew magazine and our sister title Make It Today Dressmaker, we now have even better news for you. Another NEW category has just been added to the line-up, providing six in total for you to enter!
In addition to the Everyday, Vintage, Upcycling and Children's Wear categories, plus the Occasion section that was introduced for 2018, readers can now also enter the Simplicity category. Entrants are encouraged to make garments from any Simplicity or New Look pattern of their choice, using whatever fabrics and embellishments they like. The judges will be looking at how well the finished piece lives up to the pattern specs, as well as the professionalism of the fit and finish.
"If you're a regular reader of Sew, chances are you've built up a huge collection of our free Simplicity and New Look patterns," says Sew editor Jenny Ward. "This new category gives you the chance to choose your favourite and create your own take on the designs. Enter any garment you like, from everyday to children's wear – just make sure to include details of the pattern brand and number, so we can compare them to the originals."
In addition to the prestige of coming in at the top of your category – plus being crowned our Dressmaker of the Year overall – there is also £3,500+ of sewing prizes up for grabs. These include a Janome Atelier 5 sewing machine worth £999, plus an Adjustoform Olivia 8 dressform mannequin, Madeira threads, and much more! Our other category winners will each win a Janome 230DC sewing machine. In addition, all category champs will receive £100 of Hobbycraft vouchers and a pair of personalised scissors from Fiskars, engraved with their name and worth £70. Every entrant will also receive TWO FREE Simplicity patterns.
Sound good to you? Then get stitching right away! Entering couldn't be simpler – just take a clear photo of your completed garment against a plain background and enter it online at makeittoday.co.uk/dressmakeroftheyear. You can include up to five shots of your make and are also able to tell us a little more information about your entry or the story behind it. You can enter each category, with multiple entries if you wish, but each entry must be a different garment. All entries must be submitted by 9th March 2018. Good luck!