18 Sep
2020

Written by Shaina Mack
When I was a child I was frequently asked, "What do you want to be when you grow up?" and I would always confidently reply 'a fashion designer', before rattling on about how someday I wanted to design clothing for my own fashion label. At age 28, I may not have my own fashion label, and I did not attend a fashion design school but, in my opinion, I have so much more. From the comfort of my home, I can connect with other sewists around the world and learn sewing skills, all while I design the sustainable wardrobe of my dreams.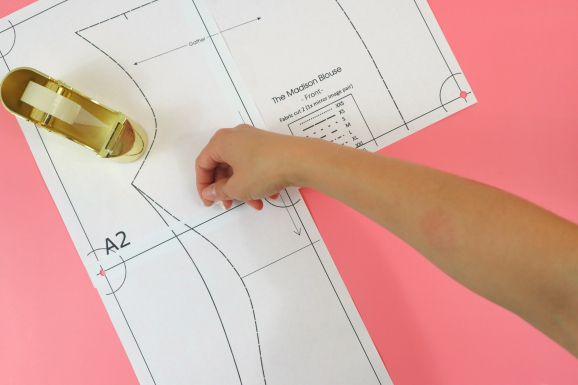 I've been sewing intermittently since I was a child, but back in the early days of sewing I didn't make clothing that I actually liked and wanted to wear; they always looked homemade and a bit hacked together. For the amount of effort it took to understand the pattern instructions, the end result just wasn't worth it. A few years ago, I was browsing Instagram and I stumbled across the most beautiful photos of a woman wearing a perfectly tailored dress in a lovely floral print fabric. After researching where I could buy such a lovely dress of my own, I discovered that she had made it! I was shocked to learn that people who weren't fashion designers could make clothing so well, that it could fit their bodies perfectly and look professionally made. I thought, 'maybe I can do that! I have some basic skills; why not try?'. With the help of an indie dress pattern that taught me sewing techniques as I progressed through the pattern and some helpful sewing blogs, I made my first dress.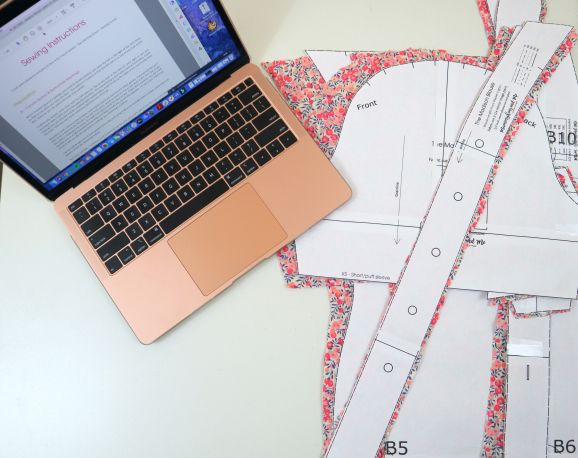 That indie dress pattern changed sewing for me. It removed the barriers of the brown paper instruction packet and made sewing accessible. Indie pattern companies, like Rebecca Page, write pattern instructions so well and illustrate every step with colour photographs making it easy to follow along. I've learned a great number of new sewing techniques and tackled challenging skills like making welt pockets, simply from reading the pattern instructions. If there are still questions about the instructions, many pattern companies direct sewists to check out their blog, sew-along videos or to join their sewing community Facebook groups. These Facebook groups engage sewists from around the world and provide a level of support and encouragement that the lone beginner needs. Through the Rebecca Page Sewing and other pattern groups I've kept up to date on pattern releases, been inspired by others and had my questions answered. I've seen people who are uncomfortable in their bodies and the things they've made be cheered on and encouraged through these groups. I've seen sewing experts surround beginners and help them with pattern instructions or fitting techniques. And I've seen a community rally together through the many trials of this year to make the world a better place through sewing.

Through social media I've seen an increase in millennials who care about sustainability. Many of us grew up in the fast fashion era frequenting high street shops. While those shops had trendy clothes for bargain prices, the clothing never seemed to last more than a season or two. I explicitly remember wearing a pair of trousers for the first time and after an hour, the hem fell out. Experiences like this motivated me to research these fashion brands and learn more about their garment-production processes. After researching, I knew that I wanted to have a more sustainable wardrobe of investment pieces that can be worn season after season. Sewing has given me the ability to research where my fabric comes from and consider the fibre content and durability. It has also allowed me to slow down and consider where I want to invest my time and money. Realising that I have limited time and monetary resources causes me to make more sustainable decisions and only sew garments that I will wear for multiple seasons. Sewing allows me to have control over the entire process of a garment's production to ensure that it is well constructed and built to last.

More millennials have turned to sewing with this same mentality. We don't mind investing in fabrics or patterns that cost a bit more because we want the clothes that we hand make to last for years to come. In the photos of the Madison Blouse accompanying this article, I used Liberty of London Wiltshire Tana Lawn. After sitting for over a year in my stash, I've determined that a Rebecca Page Madison Blouse with that fabric will be something I will cherish. We millennials want to love our clothes and have them be unique expressions of ourselves. We want to love what we make so much that years later, when our garments have developed holes or stains, we can repair them or upcycle them into something that we love just as much. Upcycling has become very popular in my generation because it allows us to take trash and turn it into treasure. If we can't always spring for that £50/meter fabric that we adore, we'll have fun rummaging through our local thrift store to find old drapes or clothing that we love and turn it into our dream garment.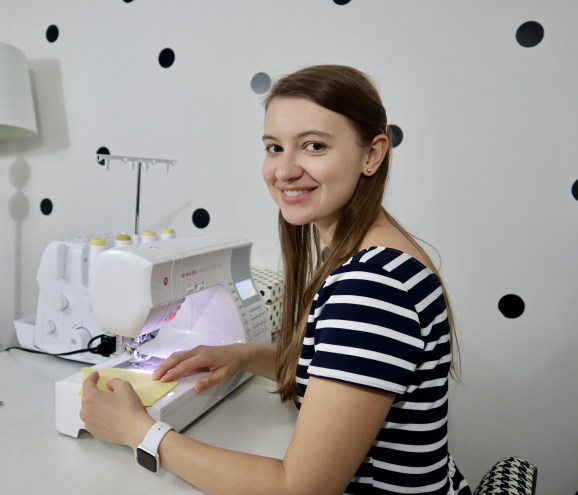 Take a moment to browse #sustainablesewing on Instagram and you will be flooded with 24k+ posts of people's sustainable sews. It's rather impressive to observe the number of millennial Instagram accounts who use that hashtag daily as they wear handmade wardrobes with pride. As millennials globally become more aware of sustainability it will continue to drive more of us towards learning how to sew so that we have a renewable wardrobe for years to come. From the comforts of home and the joys of the internet, I am able to learn the answers to my greatest sewing questions and participate in sustainability. I no longer have to call Grandma in the middle of the night or visit a local sewing shop to beg for help. I can do what millennials do best; surround myself with a community of inspiring people and Google it. Thanks to the internet and its countless resources, it is easier and more accessible than ever for millennials to put down their phones and pick up a needle and thread.

Shaina Mack is a Content Creator for Rebecca Page, the designers of a range of beginner-friendly, easy-to-sew, inclusive size range patterns and sew-alongs with unrivalled fitting expertise. Rebecca Page has over 600,000 members in their engaged and creative global community. Find the team on Facebook @rebeccapageofficial or on Instagram @RebeccaJPage.