1 Apr
2015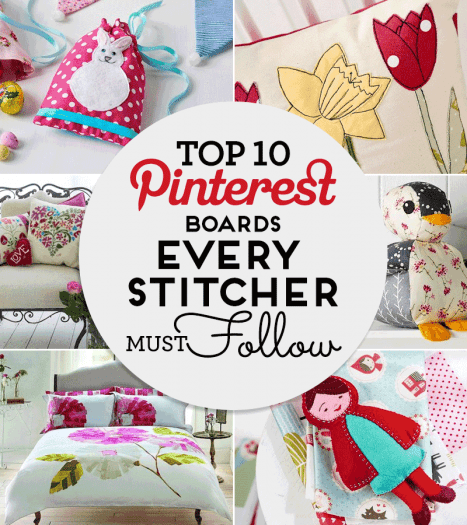 Pinterest is one of the best places to find inspiration these days. You could lose hours getting creative ideas! So to help you narrow down your searches, we picked our top 10 favourite boards, from pinners we trust to bring you the most exciting content.
1. Sew Magazine, Projects to Stitch

www.pinterest.com/SewHQ/projects-to-stitch
Full of all our lovely makes from the mag. With links to FREE patterns on our website.
2. Crafts Beautiful, Sew on and Sew Forth

www.pinterest.com/craftsbeautiful/sew-on-and-sew-forth
Our sister title has tonnes of inspiration on this fantastic board!
3. Homemaker Magazine, Interior Ideas

www.pinterest.com/homemakermag/interiors-ideas
If home décor is your thing, you can't go wrong with this board that is jam packed with ideas.
4. Quilts Could Take Over the World!

www.pinterest.com/belindaberner/quilts-could-take-over-the-world
Quilting is such a wonderful craft. Get following this board for ideas for your next one.
5. Create and Craft, Sewing!

www.pinterest.com/createcrafttv/sewing
Lots of ideas from the experts over at Create&Craft.
6. By Hand London, Nerdy Sewing Tips

www.pinterest.com/byhandlondon/nerdy-sewing-tips
These trendy pattern makers could never be nerdy, and these tips might just be what you're after!
7. Mr X Stitch, Hand Embroidery

www.pinterest.com/mrxstitch/hand-embroidery
Some really unique and modern designs for the embroiderers amongst you.
8. Moda Fabrics, Moda Fabrics love

www.pinterest.com/modafabrics/moda-fabrics-love
Lots of lovely fabrics to drool over!
9. Art Gallery Fabrics, Designer Jeni Baker

www.pinterest.com/artgalleryfab/designer-pat-bravo
Featuring fabric swatches, gorgeous styled pictures and things to make.
10. Delia Creates, Top Sewing Tutorials on Pinterest

www.pinterest.com/ucreatecrafts/top-sewing-tutorials-on-pinterest
If you're just itching to get started on a project, these are some of the best tutorials to get stuck into.


Last Minute Christmas Gifts
3 Dec 2021
#AD It's finally December and with Christmas just around the corner so begins the mad rush to get all of our…