21 Jun
2016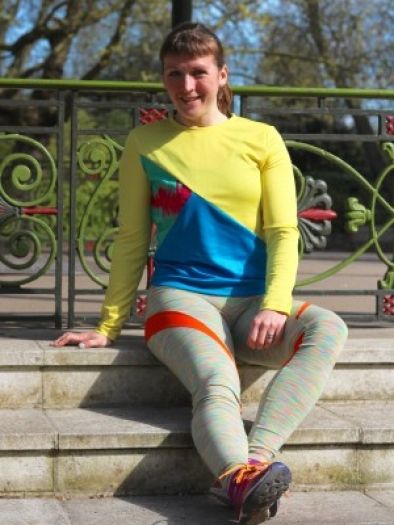 Inspired by the Sewing Bee's Active Wear Week to make your own workout gear? Melissa Fehr, of indie pattern label, Fehr Trade, offers her top advice
Only a few years ago, active wear sewing was a niche pursuit. There were a few active wear patterns on the market but most of us active sewers were left either making the basics or adapting casual wear patterns. One of the reasons I started my own line of exercise sewing patterns was because I worked my way through the basic designs on offer in existing patterns, and found myself customising them more and more.
Luckily, over the past few years both fabric stores and pattern companies have greatly expanded the active wear options available to the home sewer. So if you've been inspired by the garments on last night's The Great British Sewing Bee, and would like to try stitching your own, there's lots of options to choose from!
1 Pick a pattern suited for your activity
Most commercial sewing patterns are designed to look good while standing, walking, and sitting, but exercise not only requires different movements but also places stress demands on different areas than the average casual wear pattern. Look for designs specifically designed for your chosen activity, or adapt as necessary.
2 Consider a fabric's recovery as well as stretch
You can determine a fabric's stretch percentage by marking out 10cm and seeing how far you can stretch this against a ruler. If it stretches to 15cm, then the fabric has 50% stretch in that direction. Recovery is how well the fabric snaps back into its original state afterwards, so after you've measured how far your 10cm stretches, note whether it actually returns back to 10cm, or stays at something longer. Most active wear demands great recovery as well as stretch, or you may find the knees bag out or your leggings pool around your ankles after a workout!
3 Never sweat in cotton!
Cotton absorbs moisture like a sponge which, at best, can lead to uncomfortable chafing, but at worst, hypothermia if worn in cold conditions! Instead, for hot weather or long, intense sessions, I recommend wicking fabrics such as Supplex or FunkiFabrics' Titan to keep you dry and comfortable. For cooler or shorter workouts, non-wicking Lycra, bamboo, or breathable polyesters will do just fine.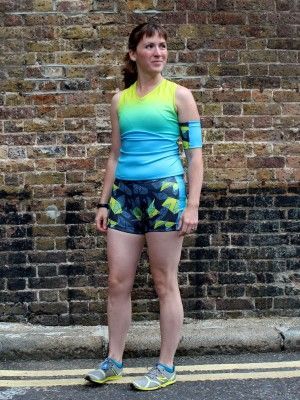 4 Refashioning race tees
Don't just confine yourself to active wear fabrics though, you can find some amazing colours and prints in ready-made active wear! If you run a lot of races like I do, you end up receiving a lot of large, boxy race tees, which are a great source of wicking fabric. I've even been known to scour discount stores for cheap active wear tops in great colours to cut up, often much cheaper than if I'd bought the fabric.
5 Think functional fit
First and foremost, you should think about what sort of activities you'll be doing in your active wear, then the sort of movements and environments you'll be working out in. If your activity requires a wide range of motion, like yoga or climbing, then you'll want to look for leggings with a crotch gusset, for instance. Or if you'll be doing a high impact exercise like running or gymnastics, you'll need a top with a super supportive compression or encapsulation-style sports bra. Riding a bicycle or a horse? Then look for patterns with an increased back rise suitable for long periods in a seated position. Let your activity be your guide to the features you need.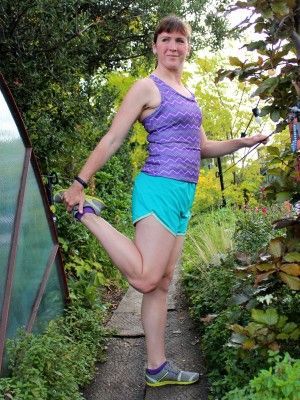 6 Take your bust measurement wearing your sports bra
Most of us who sew know our measurements by heart, but how many of us know our bust measurement while wearing a sports bra? These can drastically change the shape and distribution of breast tissue while holding it close to your chest, so always take your measurements wearing the undergarments you'll be exercising in.
7 Zig zag and twin needle
You don't necessarily need an overlocker to sew stretchy active wear fabrics – the good news is that you can still get great, robust results with a regular sewing machine. Set your stitches to a narrow zig zag with a short stitch length, and stretch some fabric scraps first to see if you can snap the threads. If so, shorten the stitch length until you can no longer break the stitching. If you're seeing skipped stitches, try switching to a special stretch needle.
8 Don't stretch as you sew
You may be tempted to stretch the fabric as you sew, but don't! This can cause unsightly, rippled seams and put extra mechanical stress on your machine. A walking foot can also help prevent these ripples, and you can loosen the presser foot pressure on many machines to prevent thicker fabrics from stretching, too.
9 Extra pockets
Most active wear patterns these days include at least one pocket, but if you're out exercising for a while and need to carry a bit more, there are some great options for wearable pockets, which can be made using leftover Lycra scraps! I've got a free armband pocket pattern which can hold your phone, money, or keys while you work out, and is great for using up small scraps.
10 On-the-road muslin
My biggest tip, however, is to sew up your first active wear garments in a cheap fabric (preferably with similar weight and stretch properties to your 'good stuff') and take it out for a spin! Fit and comfort are particularly personal when it comes to active wear, and I often find that I need to make a few small tweaks for a new pattern or fabric to make it exactly right for me. Check whether it moves around, rubs, or feel uncomfortable in any way, make those tweaks to your pattern, and then dive right in to that gorgeous fabric for your second version!
Love the show? Subscribe to Sew and receive a FREE copy of the new accompanying book, The Great British Sewing Bee: From Stitch To Style plus 2m of fabric!



Step Into Silk
16 Mar 2021
#AD If you are looking to add a touch of luxury to your wardrobe, there is no better place to…