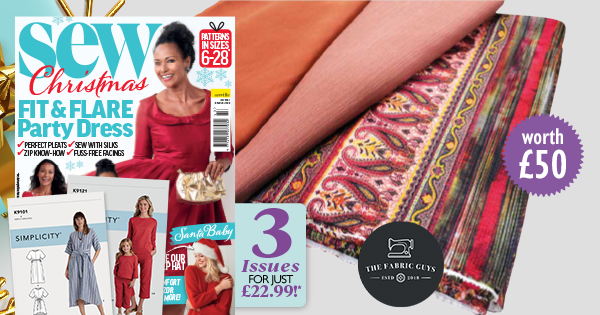 These gorgeous fabrics can be used for all seasons, as the materials and beautiful colours are so versatile. What are you waiting for? Add a personal touch to your wardrobe!

BUNDLE INCLUDES:


2.5m Ethnic Print Scuba Jersey 150cm wide
3m Omega Crepe 150cm wide
2.5m Drape Chiffon 150cm wide

Great Reasons to Subscribe
BE INSPIRED! Sew is brimming with fashion-inspired projects for clothing, home décor and accessories
OVER £100 worth of patterns a year
FREE DELIVERY straight to your door before it hits the shops
SPREAD THE COST with a Direct Debit
SAVE over £17 off the cover price!
Membership Rewards
Enjoy regular member benefits as part of your subscription:
Exclusive offers
Exclusive competitions
Craft Store discounts
Star subscriber - coming soon!
Plus much, much more...
Want more from Sew Magazine?
Renew A Subscription
To renew a subscription, please enter your WEB ID below

Please note, you'll be leaving Sew & entering eSubscriber (our secure subscription site)
Check your subscription details
Account Settings
To renew a subscription, please enter your WEB ID below

Please note, you'll be leaving Sew & entering eSubscriber (our secure subscription site)