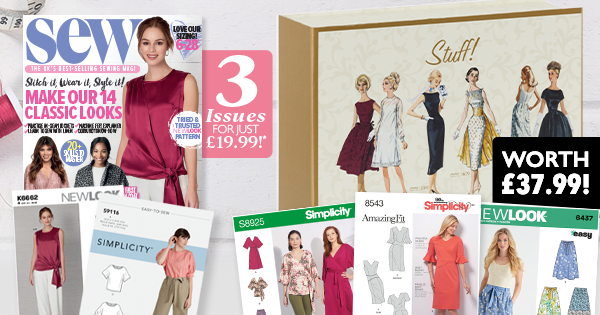 Back by popular demand!
This collection is made up of three gorgeous patterns, which have a total of 11 garments inside. PLUS we're including a Simplicity Vintage storage box, to keep all your patterns organised.

BUNDLE INCLUDES:
• New Look Pattern UK 12-24 - Misses' Skirt
• Simplicity Pattern UK 6-28 - Misses' Trouser, Skirt, Wrap Dress, Wrap Top
• Simplicity Pattern UK 12-20 - Misses' Amazing Fit Dress
• Pattern Storage Box

Subscribe today and get 3 issues for just £19.99*!
Click Here
Great Reasons to Subscribe
BE INSPIRED! Sew is brimming with fashion-inspired projects for clothing, home décor and accessories
OVER £100 worth of patterns a year
FREE DELIVERY straight to your door before it hits the shops
SPREAD THE COST with a Direct Debit
SAVE over £17 off the cover price!
Membership Rewards
Enjoy regular member benefits as part of your subscription:
Exclusive offers
Exclusive competitions
Craft Store discounts
Star subscriber - coming soon!
Plus much, much more...
Want more from Sew Magazine?
Renew A Subscription
To renew a subscription, please enter your WEB ID below

Please note, you'll be leaving Sew & entering eSubscriber (our secure subscription site)
Check your subscription details
Account Settings
To renew a subscription, please enter your WEB ID below

Please note, you'll be leaving Sew & entering eSubscriber (our secure subscription site)