3 Jun
2016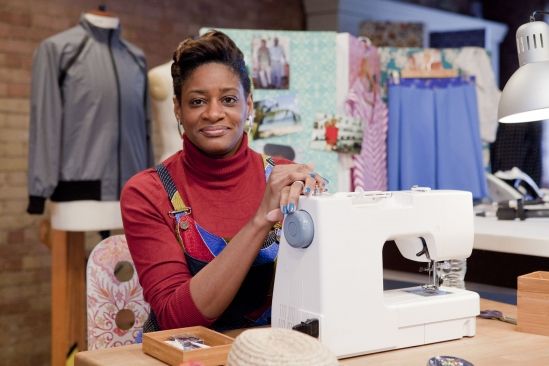 Ghislaine, 43, was the second sewer to leave series four, and although we loved her colourful flair, her children's challenge didn't quite go to plan. We caught up with the French-born stitcher to get the lowdown on her experience on the show.
"The highlight of the experience is the friends I have made, they're amazing people, and I will miss them all.
"I started properly sewing about three years ago. I made a full circle skirt and a blouse and I am still wearing it. I also made a leather dress but I have only worn it once, and will never wear it twice! It just wasn't right, so never again!
"My worst moment on the show was the babygrow disaster. While sewing under pressure your brain sometimes freezes, and the gusset ended up halfway down the leg. It was my worst nightmare!
"I got used to the cameras quite quickly, but found it hard to sew under the time pressure. Even though I was sometimes tired, I knew I had to go for it because it was a once in a lifetime experience. It was a very precious time for me, and I will always remember it. Getting out of my comfort zone was a big deal.
"I am continuing to sew, and although I live in a small studio flat, I have set up a workshop with my sewing space. I am determined to keep stitching. I am currently making a dress for my niece who is going to wedding in Italy. It is a 1950s style from an original vintage pattern. When I am sewing in my own time I sometimes have to work late into the night, but I enjoy it and find it very therapeutic.
"I love bold fabrics and prints, and I want to explore the world of colour fabric, and also in the future advise people on how to wear them successfully."
Check out our July issue, on sale now, to meet the rest of this year's contestants!
Love the show? Subscribe to Sew and receive a FREE copy of the new accompanying book, The Great British Sewing Bee: From Stitch to Style, PLUS two metres of fabric!


Sewing Week 2020: To Our Retailers
15 Sep 2020
Dear retailers,

The Sew HQ team fully appreciates the challenging trading conditions created by this year's COVID-19 pandemic, particularly for…



Sewing Week 2020: To Our Retailers
15 Sep 2020
Dear retailers,

The Sew HQ team fully appreciates the challenging trading conditions created by this year's COVID-19 pandemic, particularly for…