17 May
2016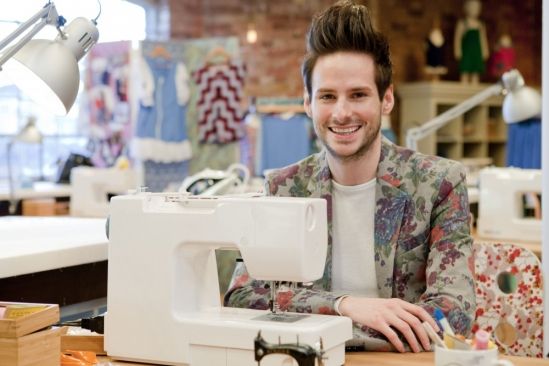 Series one contestant Stuart Hillard on the first episode of GBSB 2016!
"The Great British Sewing Bee is back, this time with a different sewing room situated in a former Victorian leather tannery in Bermondsey, plus another 10 contestants and a new judge, Esme Young.
"Esme started the ball rolling for the Pattern Challenge with an apparently simple top consisting of just four pieces, but of course this is the Sewing Bee and the judges could never make things as easy as that. I've always suspected that there was a certain bias in the Sewing Bee and this first task proved me correct; bias stripes stitched to create a chevron pattern at the front and the back. Who saw that coming?
"The fabrics were volatile and speaking as someone who has been in the sewing room, it's only a matter of time before one of the contestants or judges goes the same way. Tracey made her life more difficult than she needed, picking a zig zag instead of a simple stripe, and Ghislaine ended up trashing her creation and starting all over again. Time is precious in the sewing room and the ability to make the right choices quickly is key to success. Then the sewing began!
"Before the contestants knew it, there was only 10 minutes to go and very little was finished. First lesson of the Sewing Bee learned… crack on! Rumana, Josh and Duncan were at the bottom while Jamie hit the top spot with his fantastic pattern matching and brave choice of georgette fabric.
"One quick skinny latte later and it was time for my personal favourite, the Alternation Challenge. This week, the task was to transform a pretty bleak and voluminous blue maternity dress into something, anything, more interesting. Esme thought it might be fun to put a hole in it… personally I'd have put the dress in a hole! This was the contestants' first chance to show the judges 'who they were'; however Esme pulled no punches and was clearly disappointed by the lack of imagination. Josh and Duncan were pretty near the bottom and Jamie came top again. If I were him, I'd be worried as those who peak too soon never win; just ask Neil from series three.
"The final Made to Measure Challenge required our sewing hopefuls to make a skirt in five hours, which didn't seem too hideous but then Josh lost one of his pattern pieces and it all unravelled. Jade stuck her neck out and drafted her own pattern… surely this would impress Esme? Patrick revealed he's not a fan of the flounce which explains why he and I never became bffs, and Tracey did pleats like a demon. Esme said "arse", explaining for me why the show has moved to a 9 o'clock time slot and the sense of relief when it was all over was palpable.
"Garment of the Week went to Angeline whose fit, fabric and finish was spot on… good show! I thought her dress was really pretty and looked beautifully made. Tracey and Duncan seemed to me to be in the most precarious position and ultimately it was he who left first. Lack of experience was unfortunately paired with a lack of imagination and it was one jersey waistband too far. Roll on next Monday!"
Check back next week for Stuart's take on episode two!
Love the show? Subscribe to Sew and receive a FREE copy of the new accompanying book, The Great British Sewing Bee: From Stitch To Style!

Sewing Week 2020: To Our Retailers
15 Sep 2020
Dear retailers,

The Sew HQ team fully appreciates the challenging trading conditions created by this year's COVID-19 pandemic, particularly for…



Sewing Week 2020: To Our Retailers
15 Sep 2020
Dear retailers,

The Sew HQ team fully appreciates the challenging trading conditions created by this year's COVID-19 pandemic, particularly for…