22 Jun
2016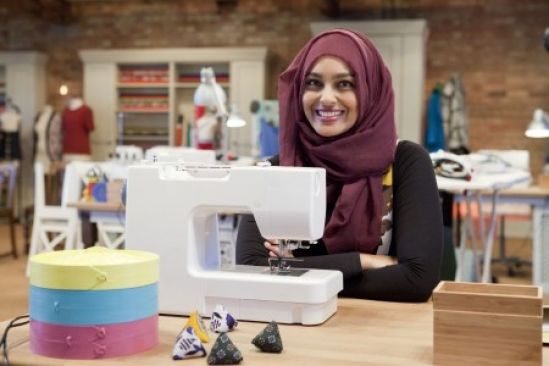 Series one contestant Stuart Hillard discusses how the GBSB contestants got competitive for Active Wear Week!
"The semi-final of the Sewing Bee this week brought a whole new set of challenges to our plucky sewers. Never before seen in the sewing room, it was the turn of active wear to delight and befuddle the remaining contestants. As an exercise teacher for over 20 years I've certainly worn my fair share of Lycra, but for me these days active wear generally means a cardigan roomy enough to allow me to eat a plate of cakes without too much stretching. Let the fun begin!
"Task number one allowed two hours and 45 minutes to sew a men's cycling top from Lycra. Joyce admitted she'd never sewn with this fabric, but had certainly felt some before! I love Joyce and hope to buy her a cocktail some day. There was a bit of discussion about the benefits of scissors over rotary cutters and I don't mean to get all school master-ish about this but please, please, can we stop freehand cutting with rotary cutters! Someone is going to lose a finger!
"Tracey and Joyce chose great colours and made a super job of sewing a really tricky garment, marking them out for the top spots. Rumana's collar, like Charlotte's and Jade's, was a bit stretched although all five sewers did a pretty good job! This task certainly divided our sewers into two distinct camps and this was reflected in the ranking. Rumana was last, while Jade made fourth and Charlotte, third. Joyce was second and Tracey's lovely version came top.
"The Alteration Challenge came next, which was to turn a very '80s ski suit into some kind of outerwear for a child, all in just 90 minutes. This really was expecting the contestants to sew with the kind of speed normally restricted to Usain Bolt and amazingly they did it! Joyce's orange bomber was the bomb, while Tracey made a duffel with a great hood and super attention to detail. Jade's batwing jacket was a bit barmy and reminded me all too well of a top I had in 1985… I loved it! Rumana impressed with a fabulously fun and on-trend flamingo coat and Charlotte added leopard skin fur trim to an adorable hooded coat. Jade came first, and I suspect that's down to her super sewing and in part because Patrick had a similar coat to mine. Nostalgia is a powerful thing!
"In the last challenge, the final five had to sew a yoga outfit. I've been to many yoga classes and the majority of people I've seen were wearing leggings and the longest T-shirt in the world. This would not cut it in the sewing room, clearly. What a shame this wasn't series two, Tamara would have romped this challenge in a heartbeat! The power-mesh and Lycra was out in force and overlocking skills were a real advantage. Charlotte went a bit rogue with her drapey top and loosely fitting trousers but I totally agreed with her decision to dress to a more 'true to life' shape. Her outfit was supportive, flattering and looked comfortable, which the judges approved of!
"Joyce's outfit was well sewn but a bit wrinkly and not particularly flattering. Jade's yoga outfit was splendid, being well fitted and aesthetically pleasing. Tracey's version was well conceived but it didn't quite make the cut with our judges. Rumana's was carefully thought out and her fabric choices were great but the binding was stretched and let the overall garment down. Out of them all, Joyce was my least favourite – sorry Joyce!
"Joyce and Rumana were clearly in the bottom. Based on this show alone I thought Joyce would be leaving but previous great work saved her and it was Rumana who had to go. I thought her sewing showed beautiful taste, with a real elegance and sense of style. It was an emotional end to this week's Bee. Rumana showed her true colours and her new-found confidence.. .what a gorgeous lady and for me, the most heart warming moment so far. I can't wait to see the semi-final next week. Who's in your top three?"
Check back next week for Stuart's report on episode seven, Puzzling Patterns and Pattern Cutting Week!
Love the show? Subscribe to Sew and receive a FREE copy of the new accompanying book, The Great British Sewing Bee: From Stitch To Style, plus 2m of fabric!


Sewing Week 2020: To Our Retailers
15 Sep 2020
Dear retailers,

The Sew HQ team fully appreciates the challenging trading conditions created by this year's COVID-19 pandemic, particularly for…



Sewing Week 2020: To Our Retailers
15 Sep 2020
Dear retailers,

The Sew HQ team fully appreciates the challenging trading conditions created by this year's COVID-19 pandemic, particularly for…