31 May
2016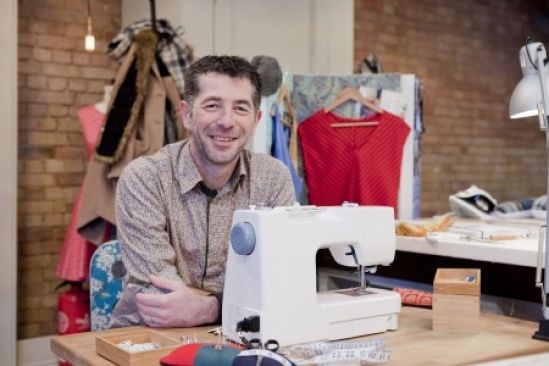 Series one contestant Stuart Hillard comments on GBSB's lingerie challenges!
"The Sewing Bee got intimate with a lingerie-themed week and within moments of entering the sewing room, Jamie tried thinking of the judges naked… shudder! The Pattern Challenge for this episode was a soft cup bra with a scalloped edge and, not for the first time, it was suggested that Patrick might be modelling the resulting creations. What a thought! Charlotte hinted at previous experience making bras and swimsuits, so I was expecting great things. Her bra was good, but not quite perfect enough to come first.
"Josh's 'meaty hands' were not helping him handle the delicate fabrics and tiny pieces, and his knowledge of this particular item of clothing seemed rather fleeting. I can't help feeling that the challenges are hugely skewed towards women sewers, it rather reminds me of being at school where the O level needlework syllabus involved making a bra. It was made very clear to me that boys were not expected to sign up and I'm starting to wonder if this isn't the message that the Sewing Bee is putting out. Straps got twisted, cups were stretched and there were lumps and bumps where there really shouldn't be. However, Joyce's bra was flawless and in a sea of fairly mediocre undergarments she was the clear winner.
"For the Alteration Challenge, the sewers were allocated up to three silky scarves and required to make a piece of lingerie using only that fabric. Once again, Josh went a bit rogue and decided to make a sort of jumpsuit, not technically underwear, and if there's one thing the judges don't like it's sewers doing their own thing. As soon as Esme and Patrick saw Josh's number, it was clear they were less than impressed and he came last. At this stage in the proceedings, he was in trouble. Jamie's knickers were pretty awful and Esme thought that Joyce's garment was 'mumsy' but that didn't stop her coming second. Tracey came first, well done!
"The Made to Measure Challenge was for a luxurious robe. I loved the look of Rumana's kimono and Angeline's idea for a vintage number was pure Hollywood glamour. Charlotte's simple cotton lawn version was all about beautiful hand finishing and was declared Garment of the Week, while Jamie's quilted (or not as it turned out) house coat all went a bit Pete Tong. This was definitely the week in which some of the front runners, like Angeline and Jamie seemed to fall behind and others who had failed to shine stepped up to the plate; enter Tracey and Joyce.
"There was a frost in the air which would not have been out of place at the top of Mount Fuji when Esme pulled Patrick up on his knowledge of kimono necks and erogenous zones. Josh redeemed himself with his final piece of sewing and things were looking pretty bleak for Jamie, so it was no surprise when his name was called at the end, but who could have predicted that last week? Certainly not I!"
Check back next week for Stuart's take on episode four, International Week!
Love the show? Subscribe to Sew and receive a FREE copy of the new accompanying book, The Great British Sewing Bee: From Stitch To Style!

Sewing Week 2020: To Our Retailers
15 Sep 2020
Dear retailers,

The Sew HQ team fully appreciates the challenging trading conditions created by this year's COVID-19 pandemic, particularly for…



Sewing Week 2020: To Our Retailers
15 Sep 2020
Dear retailers,

The Sew HQ team fully appreciates the challenging trading conditions created by this year's COVID-19 pandemic, particularly for…