5 Jul
2016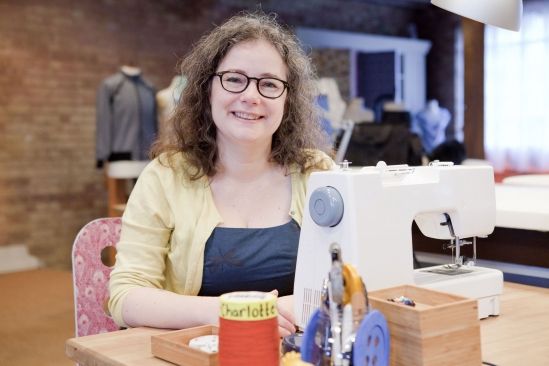 Series one contestant Stuart Hillard was on tenterhooks with the rest of us for the GBSB final – who would come top for Evening Wear Week and be the ultimate winner!
"So the final of The Great British Sewing Bee was upon us and the finalists, Joyce, Jade and Charlotte were raring to go. The last week was all about evening dress and the first challenge was to create a man's shirt with rows of precise pin tucks. As always, the positions in the sewing room were all over the place and pretty much everything that could go wrong, did… mostly for Charlotte. Joyce's shirt was pretty flawless, Jade's was good and Charlotte's shirt was the worst, by a country mile.
"For the Alteration Challenge, the sewers were presented with a tuxedo and given just 90 minutes to create a little black dress. There's a lot of structure in a dinner suit and the only real way to make something great in such a short time is to use that to its best advantage. Charlotte did just that and kept the revere and bow tie intact, creating a rather smart halterneck dress with sequinned inserts. As Patrick remarked, Charlotte was getting good at this challenge and at just the right time. Both Jade and Joyce had a good go but in the final analysis it was Charlotte who came out on top, Jade came second (again) and Joyce came last. It just goes to show how things can turn on a pin!
"In the final challenge, the contestants hand selected their own models from family members and pre-cut their fabrics before arriving in the sewing room. In theory the dresses should be perfect, shouldn't they? The fit should have been all sussed out at home so all that's left to do in the allotted 6½ hours is sew. That was the theory anyway!
"Jade sewed a very sexy coral number for her mum's best friend. I loved the beaded fabric not to mention the sight of her hammering at the hemline. Frankly a hammer should be in every sewer's tool box. It's certainly in mine! Jade showed her usual joy, flare and daring with a dress that was complex, sassy and unapologetic.
"Joyce chose a rather austere bustle skirt and corseted top for her granddaughter, based on a costume pattern. I thought this was a very risky tactic given that the challenge was to create an evening gown. The pattern could have worked in different fabrics perhaps, but as it was, it was all a bit vamped-up Victorian schoolteacher for my tastes. Charlotte chose to make a smart, but essentially quite simple purple number for her children's stepmother. The dress really hinged on simple lines and an exquisitely hand sewn back zip. This was a brave choice as there was nowhere to hide in this dress!
"I was disappointed by the lack of time spent watching the finalists make this final challenge. No sooner had they started than Claudia was shouting, '30 minutes to go!' Joyce suggested that no one would be that concerned about neatness… Joyce, are you kidding me?! Jade kept hammering and Charlotte switched plans and did rather less hand sewing than she had originally intended. Joyce looked stressed, Charlotte had a breakdown and Jade looked pretty relaxed throughout. Before I'd even finished my appletini, the catwalk was in session, Patrick was stroking his chin and Esme was scowling through her glasses.
"Joyce's dress was a bit of a fancy dress number and the judges clearly didn't like it. Everything looked okay however, until Patrick lifted the peplum to reveal the safety pins. Whoops, the skirt was rather roomy to say the least. Patrick wasn't sure whether the skirt was 6" or 8" too big… I am saying nothing. Jade's dress was a bit full in the waistline and the hem wasn't finished, but for me it made the most impact and had great drama and nerve. Charlotte's dress looked elegant (but simple) from the front and a dog's dinner from the back. The judges deliberated and the other contestants had a bash at predicting the winner.
"At long last it was time for the big announcement and in a final decision which should surprise no one who has been reading this blog, the winner of The Great British Sewing Bee for this year was… Charlotte! Looks like I was right about that tattoo eh?"
Love the show? Subscribe to Sew and receive a FREE copy of the new accompanying book, The Great British Sewing Bee: From Stitch To Style, plus 2m of fabric!


Sewing Week 2020: To Our Retailers
15 Sep 2020
Dear retailers,

The Sew HQ team fully appreciates the challenging trading conditions created by this year's COVID-19 pandemic, particularly for…



Sewing Week 2020: To Our Retailers
15 Sep 2020
Dear retailers,

The Sew HQ team fully appreciates the challenging trading conditions created by this year's COVID-19 pandemic, particularly for…