1 Jun
2016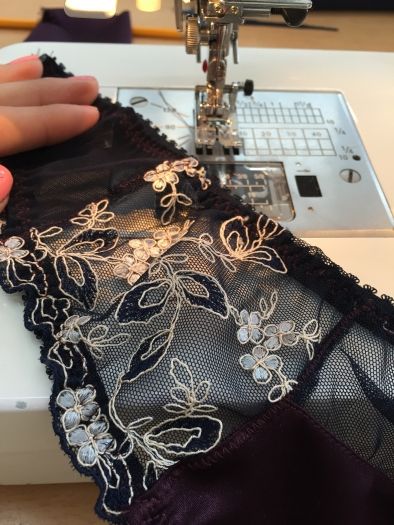 We loved watching how the contestants constructed beautiful lingerie on the Sewing Bee this week. So if like us, you fancy having a go without getting your knickers in a twist, take a look at our top tips from Rachel Pinheiro at www.houseofpinheiro.com.
The word lingerie comes from the French word 'linge' which means washables. At the time lingerie encompassed everything that was worn by women beneath their clothes for modesty and hygiene. Over the centuries lingerie has transformed from purely functional to extravagant pieces.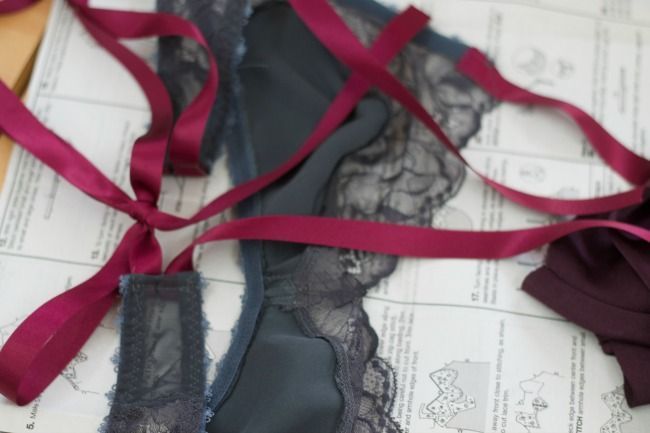 1 Get the fit right before picking your pattern.
Before sewing your own bra, you need to visualise what a well fitting bra looks like on you. Try a variety of different styles, shapes and fabrics to see what suits your shape best. Unfortunately unlike sewing a garment, you can only test the fit once you are almost finished. A bra needs to fit and feel as good as it looks. It shouldn't gape in the cup area, or the back band rise up. The straps should sit firmly on the shoulders and the underwire should not dig in. Consider the variety of styles available before picking your pattern of choice. There is a myth that the wider the bra strap, the more supportive it will be. However, the support from a bra comes from all aspects: fabric, accuracy of construction and pattern. A well constructed bra should hold up even when you slip off the straps.
2 Know your measurements
Put on your best fitting bra, the one that gives you the most ideal shape but is not padded or push up. Stand tall and relaxed, then take your measurements.
Wrap a measuring tape snugly around the rib cage, right underneath your breast; take a breath, exhale, note the measurement in inches, rounding to the nearest whole number. If your measurement is an even number add 4 inches, if odd numbered add 5 inches. This will be your band size. For example, If your measurements are 40 inches, add 4 which makes the band 44.
Take the measuring tape and wrap it around the fullest part of your bust, making sure it's across the apex. If your measurement isn't round to the nearest whole number, calculate your cup size by subtracting the cup measurement from the band size. For every inch difference, add a cup size.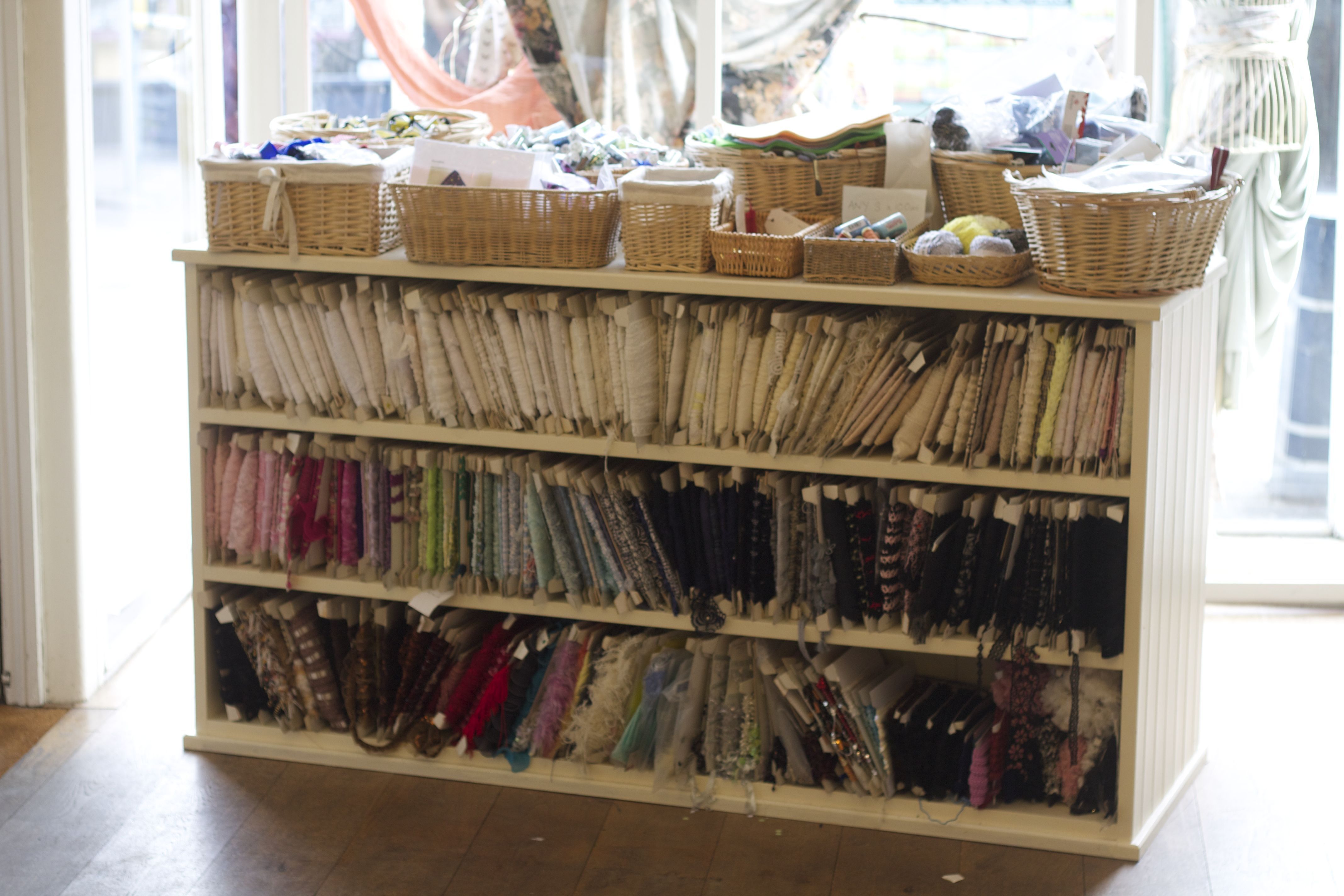 3 Pick the right materials
Sewing elastic for lingerie can be a bit scary, but selecting suitable elastics is key for a successful application. You must follow the pattern recommendation. When testing bra fabric elasticity, it should easily bounce back when you pull at it without showing the indent of your fingers in the fabric.
To identify the right side of a knit fabric, stretch the fabric on the crosswise grain; the fabric will curl to the right side. Mark the wrong side with a piece of masking tape before removing the pattern pieces. When laying out the pattern pieces on slippery fabrics or on the bias, it is easier and more accurate to use full size pieces or to cut on a single layer. Use fine silk pins to prevent snagging the fabric.
It is also advisable to use directional sewing (stitching all of the seams in the same direction). This ensures that all seams stretch the same way. When sewing tricot knit, stretch all the seams against the grain, or from top to bottom, to prevent the fabric from stretching out of shape at the seamline.
Lace adds a feminine touch to lingerie and it's frequently used as an edge finish or insert. Select lace or trims that best match the right fabric. Nylon lace works with most fabrics and is often recommended when using synthetic fabrics as there is no need to pre-shrink. Fine cotton laces work best with cotton and silk fabrics. Laces have a definitive right and wrong side. You will notice that the right side of lace frequently has derailing that is raised, and the wrong side has a less finished appearance.
When sewing lingerie, use a fine, lightweight thread and small needle to prevent the fabric from puckering, or skipping stitches. Thread and fabric fibre content should be compatible. Long stable polyester thread is recommended for sewing synthetic fabrics, while cotton thread is preferable for natural fabrics. Size and type of needle is important; use a 70/9 or 80/11 needle.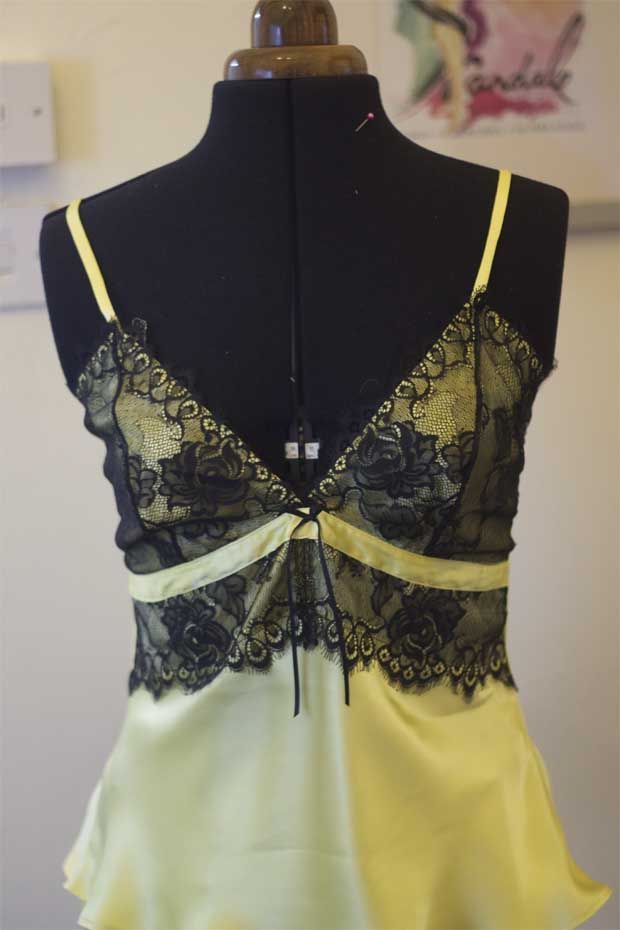 4 How to pin slippery fabrics
Place garment sections, right sides together and raw edge even, on a flat surface; pin together at the ends. Hold ends, and lift the fabric from the table. Lay fabric down again, allowing to fall naturally into place. Match raw edges, and pin layers together at the centre of the seam, then along the edge.
Using knits that curl? Fold your fabric in for layers in a hanger and spray the surface with liquid starch. After it's dry, lay out and cut the fabric as usual.
5 Caring for handmade bras
Hand wash is the most recommended way to care for your lingerie, especially if you have sewn with lace, silk, tulle, satin and other delicate fabrics. Soak the lingerie for up to 15 minutes in a cool to lukewarm water bowl with delicate detergent. Gently squeeze. Don't rise it under running water to avoid stretching the fabric, instead run clean water though a basin until all the detergent is rinsed out. Press each item delicately. Roll them in a clean towel to absorb moisture and leave to dry.
Sew is here for all of your Sewing Bee news! Catch our weekly round-up with Sew columnist and series one contestant, Stuart Hillard, as well as upcoming guest blog posts!
Love the show? Subscribe to Sew and receive a FREE copy of the new accompanying book, The Great British Sewing Bee: From Stitch To Style!

Sewing Week 2020: To Our Retailers
15 Sep 2020
Dear retailers,

The Sew HQ team fully appreciates the challenging trading conditions created by this year's COVID-19 pandemic, particularly for…



Sewing Week 2020: To Our Retailers
15 Sep 2020
Dear retailers,

The Sew HQ team fully appreciates the challenging trading conditions created by this year's COVID-19 pandemic, particularly for…