23 Jun
2022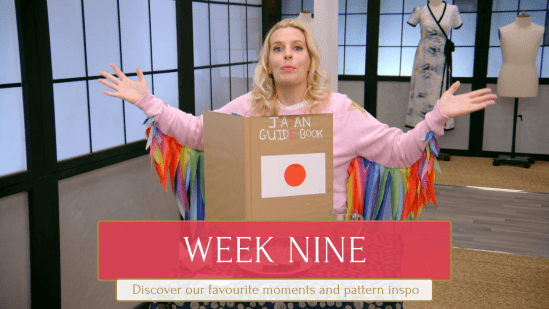 It was East meets West in this week's Sewing Bee. Of course, it had to be Japan Week! As the theme for the semi-final, it was certainly kawaii…. and it did not disappoint. Think flowing garments, minimalism, and a waste-not-want-not approach. Sara certainly made us chuckle when she said "This week we're going to be travelling across the globe to a place of vibrant colour, avant-garde clothes and deep spirituality. No, it's not Leicester: it is Japan!" With only four sewers left in the competition, there was an ambience of excitement and nerves.
The first challenge came in the form of a kimono-inspired dress. Esme had designed the pattern specially with her Japanese designer friend, Wakako. The sewers simply couldn't wait to get their hands on the haberdashery, which was filled with an abundance of Japanese prints. Our dynamic duo, Esme and Patrick, were looking for smart, impactful garments with contrasting but complimentary fabrics. The pattern consisted of traditional rectangle sleeves, a standing collar, and a belt with an Esme-approved bow. The judges were expecting the collar and the belt to be in one fabric, and the body in another. An accurate lining and the way the sleeves were attached to the body was crucial for this one. The sewers had to tackle some of the largest pattern pieces ever seen in the Sewing Bee, which was no mean feat. Brogan mumbled one of our mottos here at Sew HQ: "Keep calm and carry on sewing."
Although not technically a dress, Amanda Walker's Laurie Wrap Top came to mind. Complete with a sleek tie belt, a wrap front and loose-fitting sleeves, this garment certainly exudes the lines and shape of a kimono. We think its asymmetrical design and mid-length sleeves are ideal for those in-between days. The top's neat gathers to the bodice ensure a tailored and professional-looking fit. Its built-in belt will cinch you in at the waist, creating a beautiful hourglass shape. Why not try your hand at a viscose-linen mix?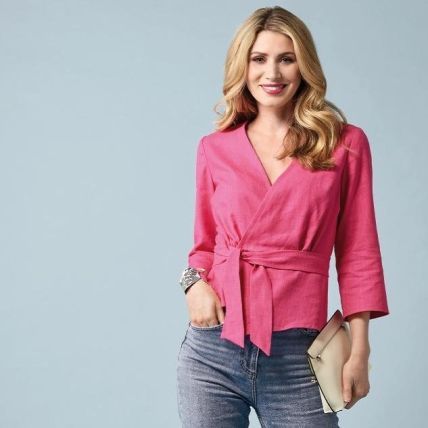 The Transformation Challenge introduced the Bees to a well-known Japanese decorative mending technique. They had to repair and beautify a pair of worn jeans using none other than Sashiko, which means 'little stabs'. Some of the contestants, like Brogan and Debra, had never heard of the intricate method before. The stitchers were given patches, stencils, and embroidery thread. Patrick was keen for the sewers to embrace hand-stitching through the mends. He wanted them to celebrate the wear n' tear and turn their materials into something new. Our favourite design was a quirky denim skirt with a Harry Potter-esque lightning bolt and a rising sun representing Japan.
We instantly envisioned our very own Sashiko Tablewear project. Created with Sashiko embroidery, this gorgeous table mat is guaranteed to update your aesthetic. If you want to introduce something different to your guests at a dinner party, place a pair of delicate chopsticks and a fragrant cup of jasmine tea with a steaming bowl of ramen noodles on the runners. Traditionally, Sashiko uses light coloured thread over darker shades of fabric. The most popular hue is dark blue or indigo, with white cotton thread worked over it.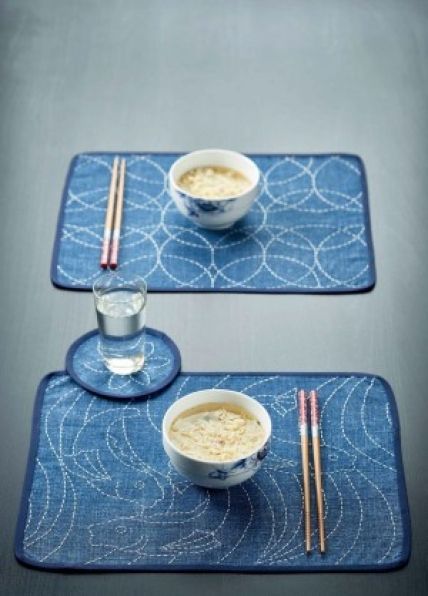 Finally, you guessed it — it was the infamous Made to Measure Challenge! This time, the sewers were asked to use a Japanese paper-folding art called Origami to sculpt, pleat and fold their chosen fabric into an outfit. Patrick had his heart set on garments with the appearance of folded paper around the body. There had to be interesting silhouettes and the outfit had to be wearable. But above all, Origami needed to be the feature that leapt out. The judges were looking for 3D designs, with fabric such as cotton drill or taffeta. Sara couldn't help but add "Let's hope nobody folds under pressure!", prompting a wink from Patrick. We absolutely adored a certain bubble gum pink Origami dress with a sophisticated essence, striking structure, and gorgeous pleats.
The final designs reminded us of the Rosalie Skirt, which is laden with pleats. It's a year-round staple that can be dressed up with heels and a leather jacket or dressed down with boots and a jumper. We'd recommend using cotton linen for this one. You could opt for a luscious, deep cranberry red, just like a model.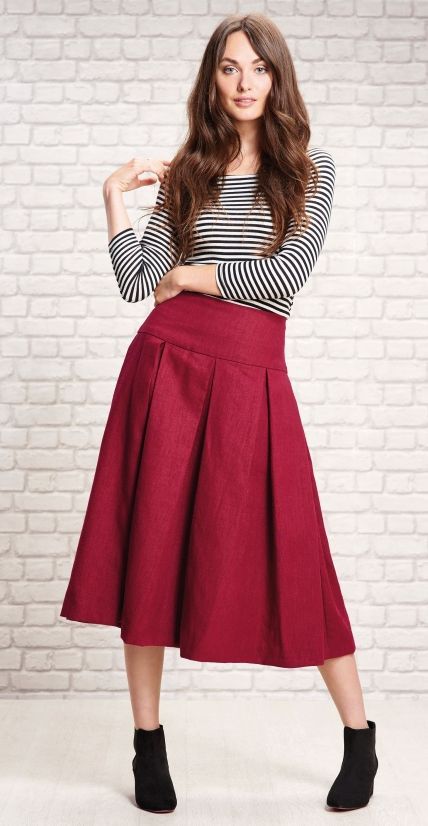 On the other hand, if you want to try your hand at the same technique as the Bees, you can have a go at our Origami Fabric Boxes. If you ask us, they're simply adorable! Plus, they're perfect for stashing sewing supplies such as pins, buttons, and thread.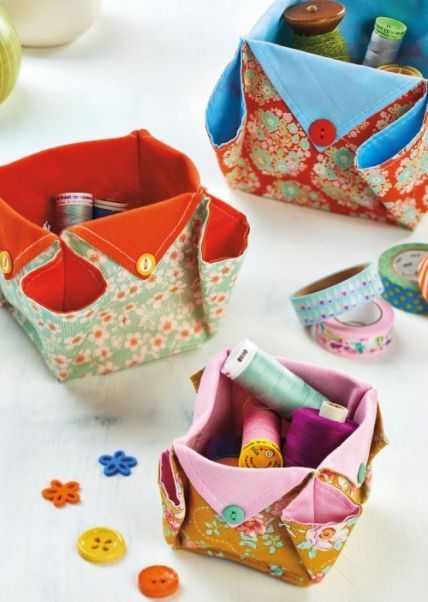 If you simply can't get enough of the Sewing Bee and would love to learn more about Series 8 CLICK HERE, you will also find profiles of all the contestants (helping you to choose a favourite) and links to all of their social media accounts.
Photo credit: BBC/Love Productions/James Stack