20 Feb
2015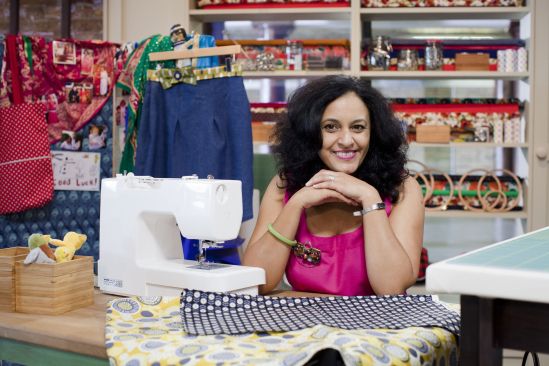 Series two contestant Jenniffer Taylor gives us the lowdown on episode three…
It's vintage week and the #GBSB get the old girls out! I'm talking 1950s sewing machines! I was in sewing machine heaven. Gutted that I missed out on my dream episode on last year's Bee, they tease me this year with beautiful machines, vintage patterns and great music. NO FAIR.
With most of the Bee's being accustomed to modern day, all singing and dancing sewing machines, this week they had to tackle more than just the tasks set by the judges but the equipment too. This has to be the week our vintage-inspired contestants Deborah, Amanda and Neela shine!
First up we have the lovely Walkaway dress – which was strangely an option I was looking at for the wrap dress task last year. Loving Amanda's Paris print tunic top - very French, she seemed to be made for the Dior-inspired task. Lover of fabulous prints, Paul picked a stunner in my opinion. It's a shame that Matt, Neil and Ryan wished the machines had stayed in the 1950s! That being said they did a cracking job with their dresses even attempting the binding foot. To my surprise the vintage ladies didn't fare well, however all four boys took top table positions. Good show chaps!
Next up we have curtains. I love working with vintage curtains and bed sheets in my #sewingrevolution workshops. A delightful source of material and so much of it to use. With one and a half hours for this task, they have a lot of fabric to get through. Amanda appeared totally focused, going for a full bodied skirt with bow belt. Ryan attempted a shirt, brave choice considering the time constraints as he would have to draft the pattern from scratch too. Neil going for the draping method creating a halterneck dress with back ventilation – hmm? Lorna surprised me with her wrap skirt when her model catwalked, I would have liked to see more on how Lorna constructed that. First place Lorna, well done! I felt very sorry for Amanda again this week, she did a fantastic job and completed it in time but only achieved third place. Neil managed to achieve second place with an unfinished garment, although it had the potential to be a wonderful dress, was this unfair on Amanda?
With sheer blouses in six hours, this was an interesting challenge. Unpicking is a big no-no for this task and French seams being a must, Lorna seemed calm and collected with this challenge. Producing a beautifully faced neckline with correct interfacing, sorry Matt; this was set to please May and did, as Lorna scored garment of the week – tally ho! Amanda's green blouse with gathered sleeves looked great on the model but the buttonhole band let her down. Paul's fabric was just gorgeous but with a twisted neckband and seventh position on the alteration challenge, I was worried he may be in the firing line. Sadly it was Neela's classic white pintuck blouse that took the heat with an unfinished hem. She was leaving the sewing room. Frustratingly excited, I still cannot figure the judging process out. Do you play safe as Amanda suggested? Is it all in the final garment? What do you think?
Join in the chat @sewhq and @jennibobtaylor