13 Feb
2015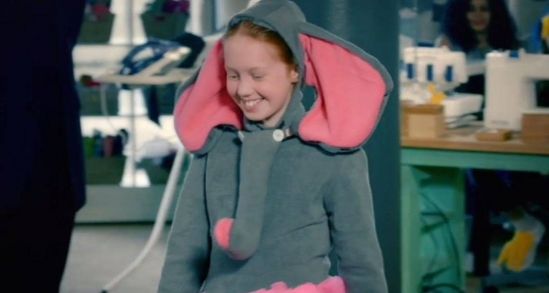 I loved our episode of children's garments on the GBSB, so I was very jealous to see that the new Bee's had the same task, I want to do it again! With precision and attention to detail being on May and Patrick's agenda, I think all in all this was a tough week.
A 16 piece waistcoat with welt pockets to start, Patrick you are demanding! This challenge seemed to really stretch the Bees, with Alex encouraging everyone to a mass exodus, Amanda being instructed to put her glasses on and Lorna comparing it to giving birth! The judges are really putting the pressure on.
At points the boys could have done with a little help I think, and luckily I have an insider tips blog: http://jenniffertaylor.co.uk/blog/insider-tips-for-future-sewing-bees My little rhyme could have saved them some time with the buttonholes.
That being said, 'here come the boys!' all taking top marks, with Ryan winning the waistcoat challenge. Lorna delivered that baby and took second place. Twitter followers were loving this task and the history lesson that followed. I must admit @quadrillecraft did make me laugh out loud with this one:
Charles II: "Tailor Tailor!
"@jennibobtailor: "yes?"
Charles I: "Tailor! Tailor!" @JenniBobTaylor: "Yes?" #GBSB #SewingBee

— Quadrille Craft (@QuadrilleCraft) February 12, 2015

I'd love to do a Charles II waistcoat challenge, I would have to add tassels to it though!
With a contrasting fabric alteration challenge up next, using stretch and woven cotton, this was set to be an interesting task. I loved the T-shirt challenge, with my plaited back and zip detail neckline, but using two different fabric qualities can be tough, especially under pressure. Neela had this very issue with her neckline which was a shame as it was a great garment, but only earned her seventh place. I thought Amanda's cape was gorgeous and the judges were a little unfair in their comments. Amanda delivered a wonderfully made garment and fulfilled the brief, but sadly came bottom place. Neil stepped up his alteration game with his boxing attire including gloves, adding the extra cute factor and gaining first place, an improvement on last week's ranking of eighth.
I have one word for the made to measure challenge: envy! 3D dressing up garments? Hello, dinosaur! I would have gone all out on this one and it was great to see the Bees do so too! Ryan really did become the sly fox, not only on this challenge but this week! Finishing early, perfect appliqué technique and waistcoat points, he was looking good for this task. However, there was something else in the room, Paul's elephant! Before he even started to construct it I adored it and it seemed May did too, he won garment of the week!
This week's elimination really did define what the Sewing Bee is all about. It seriously takes you out of your comfort zone. Sewing can appear to be a very precise craft and unfortunately the time constraints put a strain on what can be seen as a fundamental skill of sewing. It can turn the precision sewer into an unpicking wreck, but the not so cautious, gut driven sewer can be triumphant! Time management and keeping your cool is what makes the difference I think, would you agree?
Poor Alex's cupcake didn't rise to the occasion and she was eliminated from the sewing room. It was wonderful to hear Alex speak of, 'wanting to spread the joy of sewing'. You can be part of my #sewingrevolution troupe any day Alex!
To see the contestants struggling with those welt pockets, check out this clip from the show: http://www.bbc.co.uk/programmes/p02jq5n2