23 Aug
2019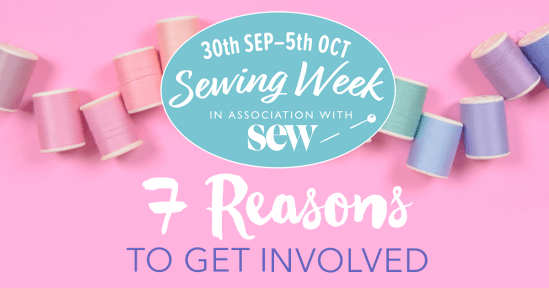 Sewing Week takes place each year in October. And while we can think of hundreds of reasons why you'd be bonkers to miss out on this craft-tacular week, we've managed to narrow it down to just seven! Let's take a look…
2019's event was proudly sponsored by Husqvarna, Pfaff, Janome and London College of Fashion
Sewing saves money!
It's a well-known fact that stitching your own clothes can sometimes save your pennies, and signed-up shops taking part in Sewing Week are offering exclusive in-store discounts on a multitude of stitchy products, as well as fat quarter and sewing machine deals, too! Your bank balance will thank you.
Free sewing patterns!
Would you like to receive FREE patterns over the course of a week? Of course you would! On Motivational Monday, you'll receive a bonus project, on Pattern Tuesday there's a dressmaking pattern up for grabs, and on Sew Saturday you can make our exclusive mascots.
Help the high street
At the heart of our campaign is a desire to save the high street, which includes our much-loved craft stores. Sewing Week supports the UK's fabric and haberdashery shops by encouraging them to hold their own in-store celebrations. Since Sew Saturday began in 2015, hundreds of shops have signed up to take part in the annual campaign, and many have reported it to be their best day's intake for the entire year.
A way to make new friends
On day three of Sewing Week, we're celebrating workshops! You can't beat popping along to your local brick 'n' mortar store to get hands-on advice and guidance from tutors, plus it gives you the perfect opportunity to meet like-minded crafty friends.
Special subscription offer
This year, we had a fantastic offer on Sew magazine – get 10% off your first three issues and pay just £17.99! Plus, you received a craft iron worth £29.99 and were automatically entered into our prize draw to win a £299 Janome sewing machine when you subscribe. We wonder what 2020's Sewing Week promotion will be…
It's loved by crafting stars
Since the campaign began in 2015 with Sew Saturday, it has been supported by a whole host of ambassadors from the industry, including former The Great British Sewing Bee star May Martin: "It provides a unique opportunity to spend time with other crafting enthusiasts in a warm and sociable environment." And our columnist Stuart Hillard agrees: "Every time we visit a local brick-and-mortar store and make a purchase, we ensure its survival and growth – that means more choice, better service and greater aid for craft enthusiasts across Britain."
It's loved by you!
Sewers, shoppers and store-owners alike praise the event! When asked about the event in previous years, shops such as Sew Creative, Sewing Room, The Fabric Daisy and Crafty Betty said it's an excellent way to welcome new customers. Four stores also kindly shared what they got up to at the 2019 event, click here to check it out.


Last Minute Christmas Gifts
3 Dec 2021
#AD It's finally December and with Christmas just around the corner so begins the mad rush to get all of our…