6 Feb
2015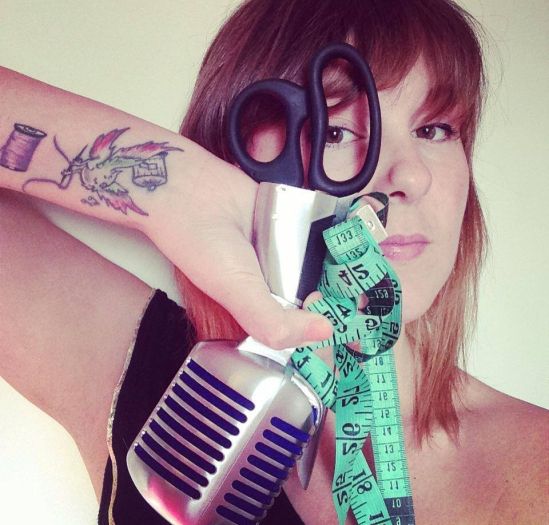 Series two contestant Jenniffer Taylor gives us the low down on last night's show…
There is nothing to prepare anyone for the onslaught of lights, cameras, panic and Patrick! I could tell you it gets easier with each task, but that would be the biggest lie I have ever told! I think the contestants did really well to keep their cool but with the time constraints and pressure, it is so easy to make silly mistakes. Wrong zips, bad fitting, sewing the wrong side, but hats off, they all had finished garments!
With only an episode to judge, and so much talent to choose from, my standout contestants are Deborah for her awesome fabric choice, especially on task three. She's a girl after my own heart as she made her own wedding dress. Amanda with her French seams and vintage style. And Neil because he is into extreme sewing! I've said the Sewing Bee is like jumping out of an aeroplane, while skydiving with a sewing machine! I was only joking Neil! But it seems the high adrenaline training has paid off as he won garment of the week - GO NEIL!
It seems that the judges are luring our contestants into a false sense of security as the tasks for this week involved working with cotton and denim, both fantastic fabrics to handle. They had to make a pair of cotton trousers but wait for it! With an invisible zip! Harsh if you don't know what you are doing especially with the time constraints!
As you know I love a bit of #sewingrevolution upcycling, so I was delighted that the second task was a denim shirt alteration. It was fascinating to see the contestants' imagination cogs whirring. Amanda, Alex and Paul caught my eye as they didn't go along with a skirt theme. That's not to say the skirts weren't a great idea, but if I was a judge, I would want to see something that was different to the rest of the room. However, the contestants don't have time to go round checking what the others are up to. This is why I love the alteration challenge, it's all down to your imagination and individual style!
Finally we had the made to measure challenge! This time around it was a cotton summer dress in bold print. With only five and a half hours to complete, my desire to be back on the show was quickly replaced with a sense of relief. I thought the end results were amazing, you really got to see everyone's sewing personality. I loved Annie's vintage style but I would have gone with a softer cotton or an old bed sheet that has been washed a thousand times to give a more delicate and floaty shape. There was also some cracking fabric choices from Deborah and Ryan.
*Spoiler alert *
To see Annie go was very sad and this is the only part of the show I hate. There can only be one winner and for me it is too early to say who that might be, but I will definitely be tuning in next week and look forward to sharing my thoughts with you!
If you cannot wait until then why not join my #sewingrevolution by following me on twitter or www.jenniffertaylor.co.uk